Art Labor's Journeys
2019年09月20日

|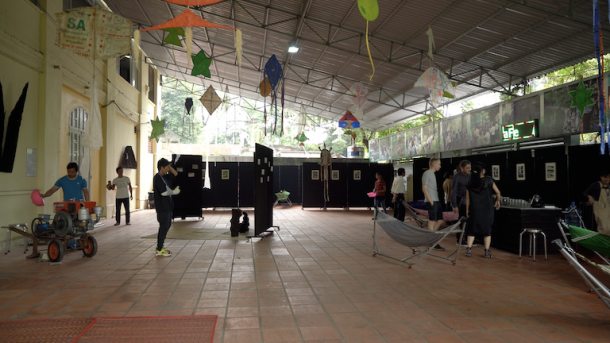 This summer, the Vietnamese artist collective Art Labor, comprising artists Thao-Nguyen Phan and Truong Cong Tung and curator Arlette Quynh-Anh Tran, organized a day-long exhibition-slash-happening at the Saigon Zoo and Botanical Garden. True to its short-lived nature, the event was aptly titled Jua, a Jrai word describing an organic, liminal, and vaporous state between water and air. The Jrai are an ethnic minority residing in the Central Highlands of Vietnam and Cambodia. In spite of its misleadingly fleeting duration, the happening marked the beginning of another extensive series of artistic projects by Art Labor, who, in their own words, "do not produce single artwork[s] but develop many-year-long journey[s]." With this event, Art Labor continues their long-term engagement with and commitment to Vietnam's diverse ethnic communities. 
Founded in 2012 when its three members reunited in Saigon, Art Labor was borne of a shared interest in interdisciplinary collaborations that experimentally and exigently test the social parameters of art. In their individual practices, Art Labor's members subtend their collective belief in imagining new research trajectories, sites, functions, and communities of art. Topically, for instance, Phan and Truong's works echo Art Labor's engagement with anthropology, ecology, and occluded publics and historical events in Vietnam.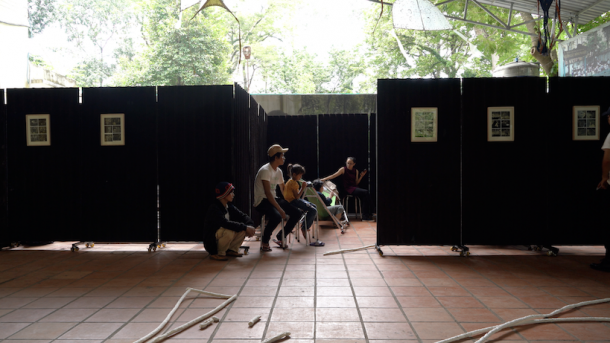 Likewise, Jua was motivated by the collective's interest in the intertwined histories of agrarian and human displacement in Vietnam. Two crops were of particular interest: the popular Robusta coffee (Vietnam is the second largest global coffee exporter), and Camargue rice, named after a region in southern France. The French brought Robusta coffee into Vietnam during the colonial period, while Camargue rice was planted in southern France by cong binh, over 20,000 Vietnamese male laborers from French Indochina who were forcibly extradited to replace conscripted French workers. A further impetus is the fact that some of the artists' parents are coffee farmers in an area that was once Central Highland forest, which have since made way for more lucrative plantations and cash crop agriculture. In Art Labor's project, highlander communities and their socio-economic issues are inextricable from important episodes in Vietnamese history.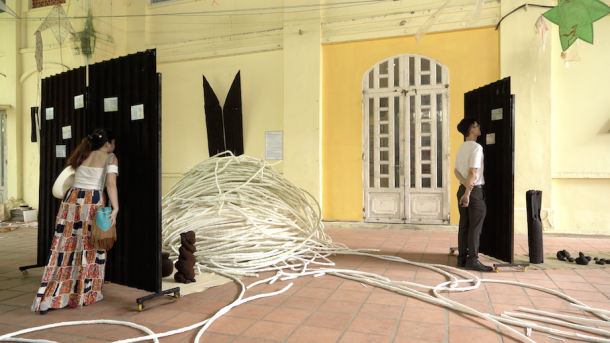 During the day-long happening at the Saigon Zoo and Botanical Garden, Art Labor combined more conventional methods of artistic display with performative and ephemeral gestures. Among the former were lenticulars juxtaposing archival and contemporary images of the Central Highlands and southern France that alluded to the spatio-temporal changes in these seemingly disparate yet historically connected regions. These works were mounted on makeshift exhibition architecture constructed from corrugated iron sheets, a common and cheap building material in the Highlands, that had been covered in coffee grounds. Accenting the static displays were other interactive activities such as kite-making workshops, a "hammock café" for relaxation, and a coffee station serving freshly ground Robusta from Truong's Central Highland family home. Much of Art Labor's artistic activity takes place outside typical exhibition venues and circuits. For instance, they chose the Saigon Zoo and Botanical Garden as the site for Jua as it was once a greenhouse to cultivate seedlings of cash crops like rubber and coffee.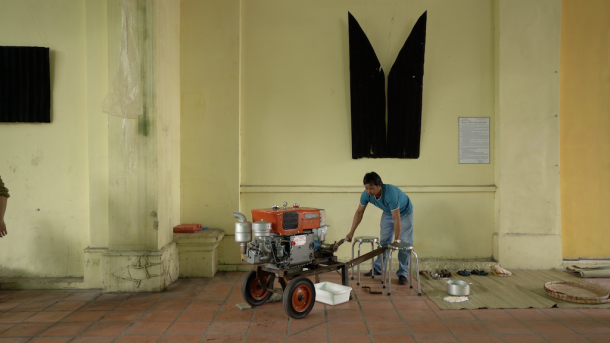 Beyond the physical sites of display and reception, Art Labor's practice circulates among overlooked communities. Longevity is key to their vocation. In Jrai Dew, another long-term project that the group embarked on since 2016, the collective takes inspiration from the Jrai cosmology that humans will transform into dew and return to the natural atmosphere after death. Echoing Jua's transient affects, the project foregrounds highlander belief systems and craft techniques, specifically, Jrai woodcarving. On regular visits to Truong's home in the Gia Lai province, Art Labor collected uprooted trees and organic debris from coffee, rubber, peppercorn, and other plantations. Seven Jrai artists, Art Labor's artistic collaborators for the project, then created sculptures from these salvaged materials. Besides commenting on the global market demand for cash crops that has irrevocably shaped their daily routines and environments, the sculptures, mostly depicting abstract animal, humanoid, and hybrid figures, also reference the Jrai political ecological belief in humanity's vital coexistence with animals and nature.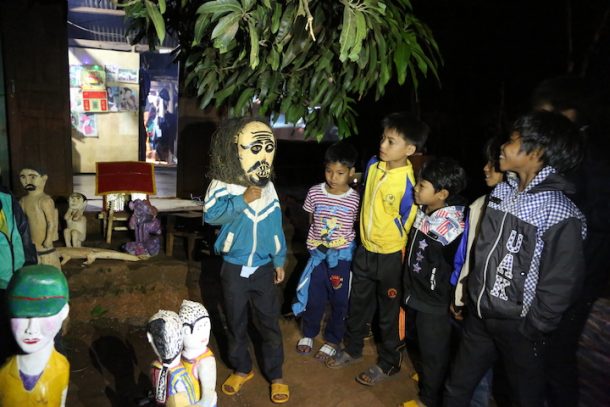 Each of the Jrai artists possesses a unique visual language and style, employing different cutting techniques and combinations of trees and plants as their primary material. The works are usually displayed in the open in Jrai villages for relatives, friends, and neighbors. Some are propped up on simple wooden stilts, while most sit squarely on the red earth. Usually presented over a weekend, festivities including cooking, singing, and dancing enliven the sculptural display. These are not so much formal exhibitions of static art objects, but rather multi-sensorial, active, and contingent experiences of art—a more accurate reflection of Art Labor's processual and provisional engagement with Vietnam's diverse demographics. Art Labor also invites collaborators and audiences from Vietnam to witness the art events that take place in Jrai villages. Attendees have included academics, sustainable crafts companies, and circus troupes, who share a common interest and involvement with Vietnamese ethnic minorities. Villagers from nearby locales also visit the art events, adding to a sizeable audience that predominantly operates outside the realm of "fine art."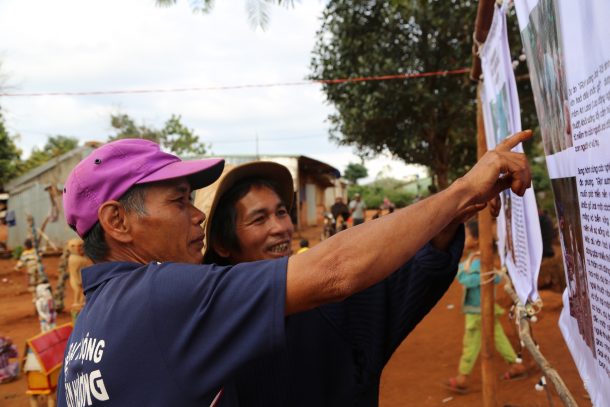 By displaying artwork by and for these communities, Art Labor extends and implicitly questions the discursive and demographical scopes of the art world. Through their Jrai Dew project, the collective also promotes and spreads indigenous artistic skills. Since they began organizing these "exhibitions," the collective has noticed an increased interest from younger generations in woodcarving, some of whom have even gone on to make artworks of their own. The collective is also committed to inviting Jrai artists to attend international residencies, exhibitions, and art events like biennales. Through direct access to Art Labor's network, Jrai artists accrue to their practices and life-worlds. Although these circuits of contemporary art seem far removed from Jrai realities, or will at most engage with them superficially, the Jrai artists are able to utilize them to develop their techniques. For instance, during a residency in the Philippines, Jrai artists observed local craftsman and adapted local artisanal styles and tools to finesse their sculptural language.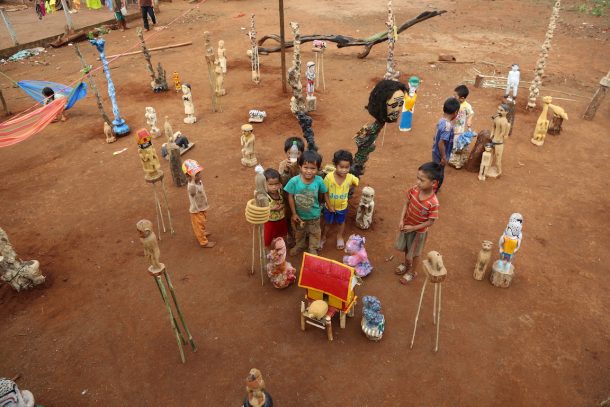 As Art Labor works with and through communities, their artistic practice is not characterized by creative ownership over self-made art objects, but rather by long-term social engagement and intangible, interpersonal bonds. The prickly question of how to "display" their collaborations with Jrai artists therefore arises when Art Labor is invited to participate in more orthodox spaces such as museum exhibitions and international biennales. Internationally, Art Labor has displayed the Jrai artists' sculptures on plinths in white cube spaces. These contained presentations seemed incongruent and unreflective of Art Labor's in-depth, years-long commitment to Jrai communities. Exhibitions have also credited Art Labor as "curators" of the "Jrai Dew Collective." Attempts at formalizing the relationship between Art Labor and their interlocutors feel jarring. On the other hand, the prospect of transporting the convivial village festivities to international art venues seems equally tokenistic and misinformed, conjuring an ethnographic essentialism that the collective wishes to avoid.
How then can socially engaged artists like Art Labor meaningfully participate in global circuits of contemporary art while retaining the nuances and sensitivities of their practice? One answer seems to lie in Art Labor's involvement in event, forum, or public program formats, which offer participatory or performative settings that better epitomize the ineffable qualities of their work. For Art Labor, the unquantifiable processes of social gathering and collective artmaking take precedence over the final exhibition of art objects. Nonetheless, without indulging in nostalgia, the infrastructure and resources that professionalized endeavors afford, however deterministic, help to sustain the Jrai artists and provide opportunities for their travel and personal edification. As three kinh (Vietnam's majority ethnic group) artists working with ethnic minorities in a historically contentious terrain, Art Labor earnestly steers clear of cultural tourism by nurturing accountability and longstanding relationships, and redistributing and sharing resources with their Jrai collaborators. Furthermore, through a website that has been translated into three languages—Jrai, Vietnamese, and English—Art Labor makes their research and artistic output freely accessible to their intended audiences. 
What is the significance of Art Labor's slow, considered social practice in the contexts of contemporary art in Vietnam? As one of Southeast Asia's fastest growing economies, Vietnam's art has also gained traction among international collectors and impresarios. Indicators of growth aside, contingencies have also unpredictably inflected the development of Art Labor's work. During Jua, stormy winds toppled the exhibition architecture, damaging artworks and temporarily disrupting the day's events. Art Labor promptly adapted, organizing around the minor setback. After all, the key constituents of the project, the Jrai artists gathered in the Zoo's yellow-walled enclave with Art Labor, were still standing, awaiting other external and recreational activities that the collective had planned for them in the days ahead.