Cheryl Donegan: Scenes and Commercials
|
June 27, 2016

| Post In 2016年4月号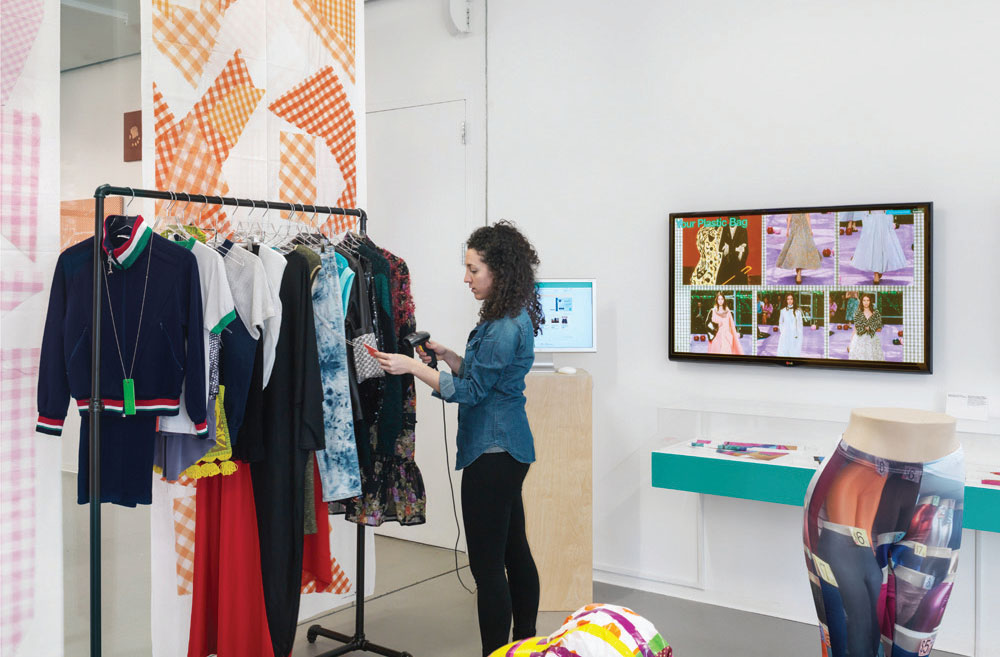 It often feels like the 1990s are an undigested pellet in the gut of artistic culture. Presented with the aesthetics of that era, it's still unclear quite how to deal with them. Appropriate and critique? Wax nostalgic? Gag? Since then, technology has become so frictionless that we often ignore it rather than revel in its eccentricity as we once did, and the bubble-era political economy has collapsed, fracturing our identities and networks into fragments with not a shred of utopian potential left. Hence the strange appropriateness of the work of Cheryl Donegan, an artist working across media from performance to video to painting, as seen in a solo exhibition occupying the New Museum's lab-like fifth floor.
The gallery is full of neon colors, half-degraded pixels, and lo-fi video footage that sees Donegan wearing masks made from plastic jugs and imprinting four-leaf clovers in green paint using her buttocks, a wry reversal of Yves Klein. This is performance art as a holistic practice; rather than gelling into a single medium, Donegan's aesthetic—one might even call it her brand—splays across canvases as well as clothes. An internet-inflected capsule outerwear collection designed with the manufacturer Print All Over Me even occupies prime position in an artist-made concept store with the tagline "Educating Desire." Retail curating is now an art in itself.
Donegan's punk-feminist practice comes to grips with cultural detritus that has not quite aged into kitsch, but comes close. Perhaps that's the source of its discomfort: we still don't know how to feel about these stylistic artifacts of a time gone by but not yet distant. The artist finds ways of reminding viewers that commerce is the only constant, and, as the saying goes, if you're not paying, you're probably the product.
New Museum, New York
2016.01.20 – 2016.04.10