Shen Yuan: Étoile du jour
|
June 24, 2016

| Post In 2016年4月号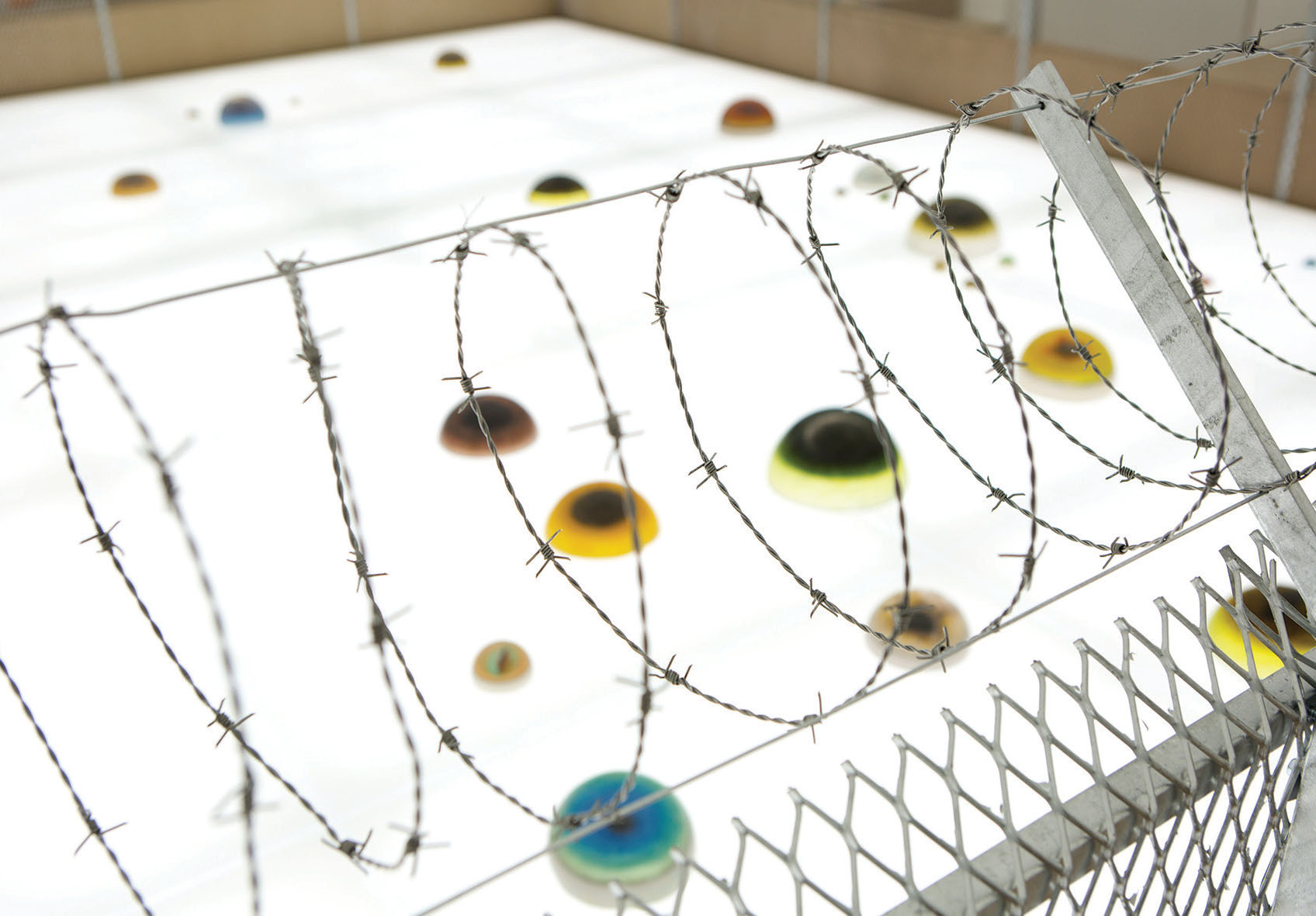 While it's hard to imagine anything more idyllic than a clear, blue sky, the general willingness to accept that the sky could be either clear or blue—impressions caused by the scattering of the sun's light by molecules in the atmosphere—is disturbing, in that it speaks to our compliance in accepting what we observe on a surface level, ignoring underlying explanations.
With the installation Étoile du jour (Day Stars, 2015), artist Shen Yuan reminds us that stars do not exist only when we can see them. The piece immerses viewers in the cold, panoptic glow of a prison yard: a raised platform surrounds a floor-mounted lightbox ringed in by a fence crowned in barbed wire. Enclosed within this pen is a set of 50 unique models of eyeballs of various sizes, ranging from recognizably reptilian to feline to human, with unseeing irises formed by thick, rounded slits, perfect black holes or milky galaxies. They are stationed alone or in clumps, with no discernible rationale. With such an emphasis on visibility, it is astounding how much the artist leaves obscure.
Shen Yuan rounds out the presentation with two other new works in the entry gallery. Dérives (2015) slides three sheets of porcelain, looking like crumpled pieces of paper that someone attempted to smooth out, over a carpet of glass shards, giving the impression of melting ice floes. Across the room are the five framed paintings of Face et profile (2015). These eerily compelling watercolors each contain two images of the same potato rendered in shades from pebble gray to mottled mauve to indigo tempered with flecks of green olive. The absurd title reassigns these paintings as portraits, encouraging the viewer to read facial features that are not there simply because they are told they are. The sky is blue, after all.
Kamel Mennour, Paris
2015.12.11 – 2016.01.23