Friendship among Fans: The Narrative Based on Situation and Bodily Experience
|
Is friendship among fans a special kind of friendship? In this kind of relationship, fans reach a consensus through self-compromise or material consumption, and perform the rituals of friendship through a certain way of sacrifice—in this way, friendship among fans seems to be no different from any other kind of friendship. However, ignoring the premise of this kind of friendship—fan group identity—would inevitably obscure those subtle connections between one bubble and another, as well as their structural value within the more complex organization of foams. Therefore, in order to better observe the interpersonal relationship within this group, I believe that the term "fan identity credential" needs to be coined to refer to the tool that is commonly used to obtain the identity among a certain fan group.
Fan identity credentials rely on concrete material manifestations. For example, although the act of handing out gifts (usually fanmade merch) at a concert is entirely voluntary, given that the production process consumes undifferentiated human labor and invaluable emotional labor, fans still expect the recipient of the gift to be an individual who is as emotionally driven as they are—in other words, the so-called "fan peers" (who share the same burden of the same goal). Therefore, fan identity credentials act as a bridge between fans who do not know each other but are at both ends of the "giving" and "receiving" relationship, facilitating the act of selective presenting. Under the same context, "idol's Weibo super talk level" and "idol's business endorsement consumption record" are the two most common forms of materialized fan identity credentials. In another context, for example, when a fan-oriented online forum is recruiting new members, the forum would often ask the new users to answer some quizzes about the common fan knowledge, which now becomes the fundamentals of the fan identity credentials.
In my study, I also found that what fan identity credentials construct is a kind of temporary trust, which can only be used to explain an instant action, but not the continuous bridging of distance among the subjects under a certain temporal and spatial condition. Even between two people who have different idols or belong to different fan groups, deep connections may also happen because of similar self-identity and individual experience. This means that the participants of fans friendship are not necessarily the fans of the same idol or the same medium: fan identity credentials are not effective between two "concrete individuals."
Friendship has always been a type of individualized experience of being, which is the only experience shared by both participating individuals. Agamben, after analyzing Aristotle, pointed out that people live together with friendship to "con-sent" to each other's existence. Therefore, the discussion about friendship between individual fans falls back on the ontological discussion about friendship, which could only be perceived in concrete situations. This is also the reason why this article now looks so different from what I first conceived: it has changed dramatically from a theoretical expository essay to a non-fictional writing that consists of several scenes.
🧡
Time had never been as tight. In fact, after arriving in Bangkok in 2 am, Qiaoning had been on the phone with Hao, a local Chinese businessman, who had promised her sixty days ago to resell her four tickets at a price far below the market, so that she and her companions could enter the The Untamed Thailand fanmeet. Unfortunately, Hao eventually confessed his helplessness to this temporary "gang" during their trip from Suvarnabhumi International Airport to the B&B: "I didn't expect it to be so popular that a ticket would cost more than 10,000 RMB." As compensation, he offered four free tickets for the EXO's concert, which took place at a nearby venue at the same time as the fanmeet. This proposal however, was immediately turned down by these loyal fans who had flown all the way from mainland China. "We only want to see Xiao Zhan and Wang Yibo." They all said.
It was Qiaoning's first time meeting these online group members in person, but because of the bumpy journey they shared in a foreign country, she sensed a rare cohesion out of this randomly assembled team. Among this team of five, Fugui, the "insider" was the only one who was relatively lukier as a fangirl. Early that morning, after only two hours of sleep, the "gang" accompanied Fugui to a lobby of a luxury hotel to pick up the tickets she had booked. Fugui was meticulous. The second she got the tickets, she asked the dealer why the plastic seals were different from what she had seen elsewhere. The answer was evasive: the tickets were "absolutely fine." Thinking back on this later, they guessed that these tickets must have been printed at a short notice as a favor due to the dramatically tight supply and demand—an insider as Fugui was, what she got were merely standby-seats.
In fact, stranger incidents were awaiting. When they arrived at IMPACT Exhibition & Convention Centre at 10 am, Qiaoning would have believed that she was back in Pudong, Shanghai, if not for the Thai texts in the venue. They were walked past by crowds and crowds of fans who were saying Chinese, and plenty of ticket scalpers who were hawking with terms that she had been familiar with, while Hao, who had promised them to "go to the venue early to figure something out" the night before, was not showing up. Seeing all these, Qiaoning found herself thinking: "Where did all these tickets go?"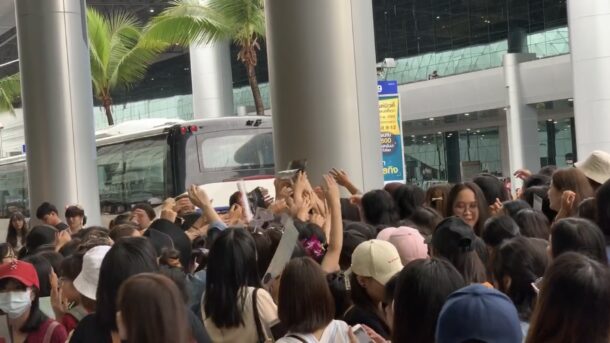 Fans picking up hand banners at the door of IMPACT. Photo: Qiaoning
Unlike Qiaoning, Moondog and Aixi were surprisingly relaxed: "Let's just take all this as a trip." Persuaded by them, the "gang" decided to give up on the tickets hunting and take a detour to the nearest spa. The satellite city where they were then—Muang Thong Thani (meaning "City of Gold") is located in the north of Bangkok. It is a large real estate project consisting mainly of residential areas, with IMPACT as the center of radiation. The nearest massage parlor was a few kilometers away in the commercial district, and the girls opted to take a taxi to get there.
Moondog was finally satisfied as they got on a cab. Watching the flowing luminous LED decorations at the top of the passing vehicles, she said, "finally this looks like Thailand." She could smell the burning Thai incense wafting out the censer, and she could see the blue wisps of smokes transformed into creamy white elephants with floral crowns on their head…Just at that moment, her dream was bursted by Qaioning's crying:
"Hao is calling! We might have tickets now!"
April 11, 2018, Los Angeles International Airport (LAX)
It is common knowledge in modern civilization that an airport is never a destination, so it is not healthy to stay at one for a long time. This is also why airlines offer various delay insurance as an emotional strategy, for they are well aware that waiting is unwanted. But for these young girls gathering at the world's third most trafficked international airport, waiting had become an essential part of their novel experience. They were glowing. Waiting was the texture of their accumulated emotion, just like the cumulonimbus cloud summoning thunder and lightning during a storm.
It was then when Moondog noticed L and M, who were handing out hand banners for supporting Cai Xukun. These two girls were dazzling with so much happiness that they stood out from a crowd of overexcited people. The hand banner looked like a typical Fan Support Essentials, with Cai Xukun's photo printed on one side. It only took Moondog a glimpse to recognize that the photo was from the final evaluation of survival reality show Idol Producer, when Cai Xukun won the first ranking and earned himself the center position in the line-up. Beside the photo was a line of text saying, "WELCOME TO USA," while on the back of the banner there was another text: "You are one of the Nine Percent[1], and the one and only."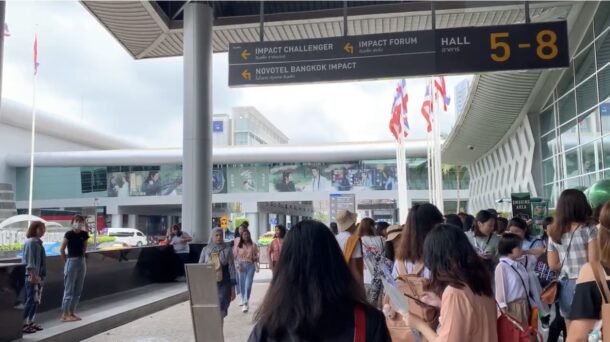 Outside IMPACT. Photo: Moondog
When Moondog picked up the hand banner, she found that it weighed more than it looked. She only learned later that they were handmade: unsatisfied with the double-side printing effect, L printed the front and back of the banners on the same side, and then folded the paper and glued them together. L had spent the whole night before helping bewildered M, producing a total of 200 pieces. To this day, Moondog still keeps this banner in the drawer under her bed. On her way back to China after graduation, she carefully pressed this piece of paper into the bottom of her suitcase and laid a pile of soft fabric on top of it, as protection.
L was indeed a reliable person, which was why everyone liked her, even the people who she met for the first time. It was only a few years later when they gathered at L's place that M confessed to Moondog that what really touched her was L's tears. "She was so excited that she cried that day at the airport…I thought to myself, she must be a very sincere fan as I am, so I have trusted her unconditionally since that day." However, the story from L's perspective proves that the start of their friendship was merely a beautiful misunderstanding. "I cried because I was so disappointed that day." L said, surprisingly, "That was my first time at a fan event and I didn't expect it to be so chaotic…and I hardly saw Cai Xukun…it was all too different from what I had imagined."
No matter what the truth is, Moondog would never know about it, for the crowd broke her and her two new friends away when the second Nine Percent appeared. When L was frustrated to tears by the chaos, Moondog was following one of the band members, dashing all the way to the parking lot, where a huge single-decker bus was parked. A few band members had been on the bus. She anxiously listened to the fans around her identifying each member, while blocking the sunlight with one hand, desperately trying to find her own idol out of those dark silhouettes. At that moment, an odd thought popped into her head: "I just realized that there are no clouds on a sunny day in Los Angeles."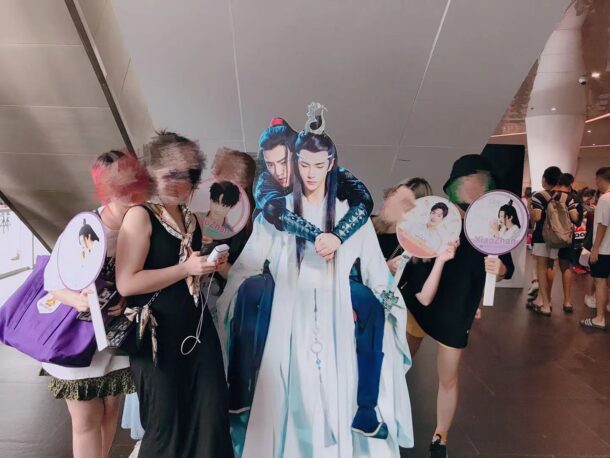 Fans taking photos with the handmade board. Photo: Tiezhu-san
Unfortunately, it was already the rainy season in Bangkok. Because of the rain, the fans and ticket scalpers gathered at the corridor in front of the entrance of the venue, making the space more crowded than ever. The five girls returned to IMPACT after Hao's call, only to find that he was not there. It was only a few hours from the fanmeet, and they still needed four tickets. Frustrated and lacking sleep, Moondog started to be forgetful, as she proposed again: "MASSAGE." But this time, the plan was cut off before it was put into action, for a key character appeared: Tiezhu-san.
Tiezhu-san was a younger but more experienced senior fan. Her glorious fangirl life once took her to a doll manufacturing factory in Baoshan, Shanghai during the Chinese New Year to help her fan friends with their "stock". For political reasons, the name of the idol she was obsessed with in her teenage years can no longer be mentioned, but the skills she had learned from that experience still benefited her from time to time. For example, at this moment, an idea came across her mind, "Haven't you noticed? The local route doesn't work anymore, we still have to rely on our resources at home." She immediately made a phone call to Brother Daning, a "leading" ticket scalper in Shanghai. A few minutes later, Brother Daning's subordinate Yuan contacted them, and they realized that they were only 100 meters apart. The "gang" finally got 4 tickets from Yuan at a price much higher than what Hao had promised, but much lower than the market average.
"Ridiculous." Commented Moondog. She was a bit happy, but also a bit sad, perhaps because Thai massage was no longer possible.
Early-mid June, 2015, outside a hotel in Hebei Province
"Why don't we add each other's WeChat?" Aixi was surprised to hear this, she admitted. Perhaps it's because they were still hanging outside of the hotel at 4 am.
Aixi booked a room at this hotel with AA, whom she met in the WeChat fans group. Although the e-commercial website listed this hotel as "Beijing suburb," it was actually in the suburb of Hebei Province. Aside from the trucks coming and going through the nearest highway, the only popularity of this place was from the nearby filming location. Normally, young people like Aixi who prefers the hustle and buzzle of cities would never consider taking a trip to a place like this, but right now they were going to stay here for at least a few days, hopeful and excited. Because, after a series of cautious deducting, the fans group members concluded that the actors they were obsessed with were going to stay in this hotel.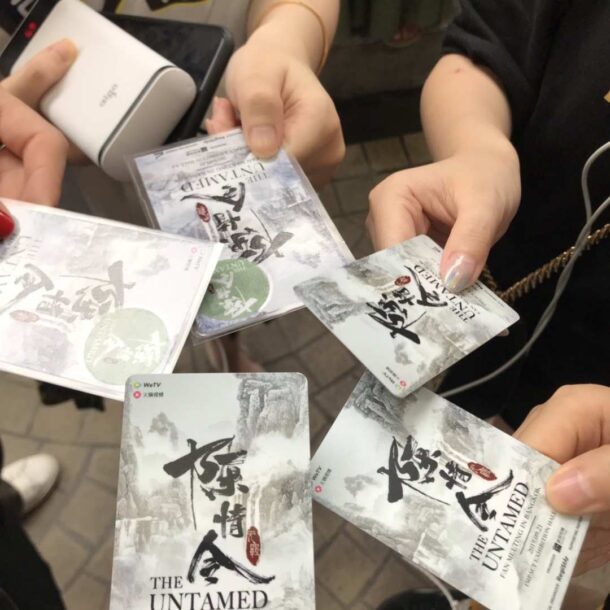 Fans displaying tickets of the fanmeeting. Photo: Tiezhu-san
Aixi was not a fan of AA. Although they were going to spend the night in the same room, she did not take AA as her friend. "She always repeatedly asks some questions, whose answers can be searched online in seconds. I can't stand stupid people," said Aixi. But if there really is a type of person whose bark is worse than their bite, Aixi would be one of them. When they were hanging around outside the hotel that day, they came across S, an actor who just finished shooting and came back to the hotel. Aixi was kind enough to think that "even though I don't really like him, AA does" and to ask S to come over and chat.
As the time on her phone lock screen changed to 4 am, Aixi realized that she still needed to write an article. When she said she needed to head back to work, S suggested: "Why don't we add each other on WeChat?" Aixi refused. She told S that AA liked him more than she did, so naturally these two exchanged their WeChat contacts, leaving a formal end to this informal meeting. In order to catch up with what she had left, Aixi returned to the room and worked till 6 am, before she collapsed into sleep. It was after she woke up from a long dream that she realized that AA did not spend the night in her room.
Even though this could not be more apparent, Aixi did not really believe it until a friend confirmed this later: "AA slept with S." She blocked AA from WeChat during a conflict with her later. Was it the incident in front of the hotel that night that killed their budding friendship? Surprisingly, Ai Xi denied it. "I can't be friend with her not because she's stupid. The fact is, I am not that different from her on the matter of being stupid, and some people may even think I'm more stupid than her." Said Aixi, "I hate her because she is not on the same channel with me."
June 23, 2010. "Japanese TV show" forum at Baidu Tieba
In short, 14-year-old Qiaoning received a confession at a "Japanese TV show" forum at Baidu Tieba. Her ID was enclosed in the title of the thread, and she was invited, in a rather formal way, to click into the post. She clicked and saw the person who posted it apologized in the thread starter: "So sorry to post something without constructive content, given that this forum is being rectified." Then the person expressed gratitude for something Qiaoning had said in a post. "Although it was not said to me, it gave me solace…Thank you."
Qiaoning had completely forgotten what she had said that could be touching for a stranger. According to her, she was "quite a character" in the forum, with a bunch of older girls who were also fans of Japanese celebrities, and she was even a "No. 1 character." If any one of them was bullied in the forum, all others would rush to the virtual scene and verbally "battle" for her. Aside from Tieba, they were also friends on QQ. They would meet each other in the newly released game "Dragon Nest" after finishing homework. One time, they decided to write to one another. Qiaoning even went to several stationery and boutique stores, just to pick different postcards for everyone. But she would never expect that someone outside this group would still remember her ID at Tieba.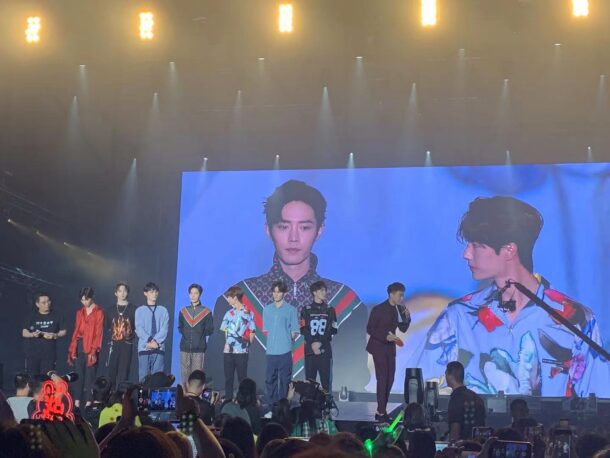 On the spot of fanmeeting. Photo: Qiaoning
Actually, the person who posted the thread also forgot what Qiaoning had specifically said. What happened was the "chuunibyou" Qiaoning standing up to a bunch of wet blankets for a group of passionate people, asking them to "stop being so high and mighty." That person was very frustrated by the discouraging words, but was "a lot calmer" after seeing what Qiaoning had posted. Compared to the sincerity of this post, Qiaoning, who by then was a junior high teenager, was not able to respond seriously. "I didn't speak properly in that thread, at all." The 25-year-old Qiaoning said, "if I could go back in time, I would definitely say to her— 'I am so glad that it gave you solace.'"
When they exchanged these two stories, Qiaoning and Aixi were enjoying the massage at a SPA in Bangkok. After the fanmeet, the other three girls gave up the massage in order to catch their flights. In the end, Qiaoning and Aixi were the ones who got to enjoy some pure vacation time. But why could two people, who had just met for less than 24 hours, easily come to the place where they could see one another's bodies? Qiaoning was a bit confused. She thus told Aixi about those days when she was a fan girl in Baidu Tieba, those simple days when people could become best friends without ever meeting one another.
"Never mind." After some thoughts, Qiaoning got herself together, "Perhaps the friendship of women in modern times is reflected in the ability to look at each other's naked bodies!"
🧡
New problems arise through observation of friendship among fans. For the subjects of action in a specific situation, "going" and "being" have gradually become two different things. Unlike "going" which is certainly convenient and easy, "being" in one place is not. Perhaps if we could explain it in Heidegger's words, this may be the gap between modern lifestyle and "poetic dwelling." On the one hand, the bonding of friendship builds up a seemingly wide web with specific events; on the other hand, the protagonists of events slide lightly from one coordinate to another, hardly forming any deep connection with a certain place, or any kind of "historical sense." Therefore, the validity of "placement-start" mode of situation is constantly being challenged.
Although fans' behaviors do not normally exceed what happens in the playing field, while they chase the game of traffic, a more macroscopic game of modern capital also unfolds within the globe. The wealth of industry—especially the entertainment and cultural industries—is iterating and flowing. Meanwhile, only when faced with a larger context, individual choices could have something to fall back on. We have seen the development of the domestic entertainment market permeated by the operation method of entertainment capital over the past decades. In the last decade a soil that feeds the "fan base" ecology was gradually formed, which is often counter-logical. One example is the core incident in this article: video platforms held fan meetings abroad in order to expand their overseas markets, but in the end, through a series of capital operations, the tickets they sold found their way back to the home country fans, who had to pay an extravagant price.
At the same time, technological developments have led to a renewed focus on the body. In the events narrated in this article, physical proximity does not necessarily lead to greater emotional satisfaction, whereas physical distances may have the opposite effect. What happened to the fans in the airport, the hotel and in cyberspace can all serve as examples. But at the same time, the presence of the body becomes a variable in a given place, allowing the real encounters to take place—even today, when technological media can realize actual functions with virtual objects, bodily feelings can still illuminate the relationship between human beings and the others, which is what we should see through the lens of technology.
Appendix:The Hidden Chronology
1920s, U.S. entertainment and aerospace industries started to develop in Los Angeles.
1947, "LAX" became the code for Los Angeles International Airport, in which the "X" does not have a specific meaning.
1970s, Bangkok Land Public Company Limited purchased 1,800 acres of land in northern Bangkok, the price of which rose 200 times over the next decade.
1985, Hollywood business and entertainment districts were officially listed as historic preservation of the United States.
1985, Japanese record producer Yasushi Akimoto founded Onyanko Club, a large all-girl Japanese pop idol group.
1989, the son of the Bangkok Land Public Company Limited's founder returned to Thailand from Hong Kong and inherited the family business.
1989, South Korean entertainment company SM Entertainment Co., Ltd. was founded.
September 27, 1990, Bangkok beated Taipei and Jakarta and became the only city to host the Asian Games four times.
July 8, 2009, the result of the first annual election of AKB48, the all-girl Japanese idol group founded by Yasushi Akimoto, was released.
June 23, 2010, Qiaoning received a confession from a stranger at a "Japanese TV show" forum at Baidu Tieba.
December 3, 2014, EXO, SM Entertainment's boy band won four awards at The 2014 Mnet Asian Music Awards (MAMA), including "Best Male Group," etc.
Mid-early June, 2015, Aixi and AA met actor S outside of a hotel in Hebei Province.
January 22, 2016, Producer 101, a reality television talent competition franchise was aired for the first time at M-net, a South Korean pay television music channel.
April 6, 2018, the first season of Idol Producer, a Chinese reality boy group survival show ended. The nine highest ranking finalists formed a boy band Nine Percent.
April 11, 2018, Chinese boy band Nine Percent arrived at LAX, where Moondog first met L and M.
June 27, 2019, The Untamed, a Chinese costume drama online television show was first aired at Tencent Video.
September 20-22, 2019, "ExplOration" concert of SM Entertainment's boy band EXO was held at IMPACT ARENA, Muang Thong Thani in Thailand.
September 21, 2019, the Thai fanmeet of The Untamed was held at IMPACT ARENA, Muang Thong Thani, where Qiaoning, Aixi, Moondog, Fugui, and Tiezhu-san first met each other in person.
February 27, 2020, fans of Chinese actor Xiao Zhan (one of the leading star of The Untamed) caused a widespread fan group meltdown which resulted in fanfiction hub AO3 being blocked in China. Xiao Zhan, in turn, was boycotted by subculture fans.
November 18, 2020, Ahn Joon Young, the Producing Director of Producer 101, was sentenced to two years in prison for accepting bribes of over 36 million South Korean won (approximately 30,600 US dollars) from entertainment agencies.
May 8, 2021, People's Daily Online, a China's state media outlet, criticized the milk wasting behavior caused by fans who bought milk but only needed the cap to scan the QR code to vote for their idols who participated in Youth with You 3. As a result, the finale of Youth with You 3 was cancelled and postponed.
June 15, 2021, The Cyberspace Administration of China (CAC) launched a nationwide "Clear and Bright" campaign, aiming to rectify chaotic phenomena relating to the entertainment sector and irrational behaviors of fan groups.
July 31, 2021, a former EXO boy band member, the idol with whom Tiezhu-san was obsessed with at her adolescence, was formally arrested on rape charges.
Chen Tianqi Tries to transform into an aca-fan in her fourth year of Ph.D. program at the Institute of Contemporary Art and Social Thought (ICAST) of China Academy of Art (CAA).
Bibliography
Wikipedia, Impact Arena. (2021-10-07) https://www.hmoob.in/wiki/Impact_Arena
Giorgio Agamben, What is an Apparatus? and Other Essays. Peking University Press. 2017-3
Hilde Heynen, Architecture and Modernity, The Commercial Press, 2015.
W. J. T. Mitchell & Mark B. N. Hansen, Critical Terms for Media Studies, Nanjing University Publishing House, 2019.
________________________________________
[1] The nine highest ranking finalists of the show Idol Producer formed a temporary Chinese boy band and debuted under the name Nine Percent, in which Cai Xukun was the leader and center.
Translated from Chinese by Liu Sidian