You Are What You Ate
October 19, 2022

|
Nineteenth-century gastronome Jean Anthelme Brillat-Savarin once said, "Tell me what you eat, and I will tell you what you are." Our daily food choices directly reflect our living conditions. Sometimes these choices can be passive; many external factors, such as the outbreak of a viral disease, the specific pandemic measures employed in different places, and war, have played a direct role in what appears on our dining tables. Research related to food—whether in agricultural science, nutritional science, biology, anthropology, sociology, economics, or politics—can all articulate the connection between seemingly trivial everyday ethics and the wider world. Food-related art practices benefit from the familiarity of the subject in our physical, everyday lives, but they must also find a way to engage in dialogue with the world through the food on the plate, and probe into the unquestioned familiarity. When making work about food, how can artists convey intellectual and aesthetic contemporaneity while avoiding formalist emptiness? How can their research sidestep the trite patterns of ethnographic methods, while remaining reflexive on the historical connections embedded among taste, class, and power? Is it possible to see the food we digest as a correlation that at once informs and diagnoses the world and ourselves?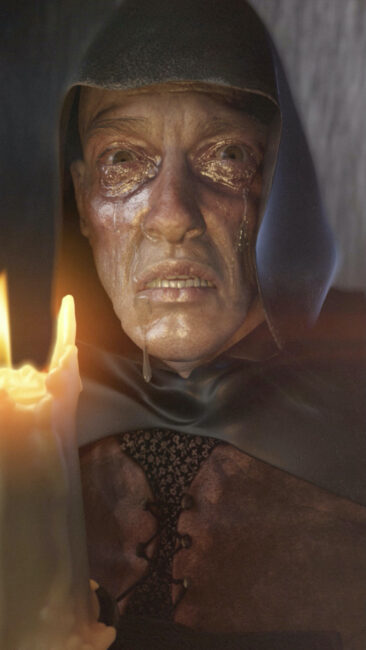 Ed Atkins, Good Man, 2017, video still © Ed Atkins 
Courtesy the artist, dépendance, Brussels, Galerie Isabella Bortolozzi, Berlin, Cabinet Gallery, London, and Gladstone Gallery
The 2019 Venice Biennale, entitled "May You Live in Interesting Times," showed Ed Atkins' Old Food (2017-2019), including the video work Untitled (2017). In a romantic rendering of people and things, the work uses an artificial realism to convey how small modern people and food seem as data samples. Layers of sliced meat shaped like people's faces, salad leaves, and other kinds of food are pressed together with piles of miniature wage workers and everyday consumer goods and slathers of cheap, glossy sauces between slices of soft, bouncy bread, thereby creating the kind of oversized sandwich common in food advertising. Atkins' work successfully awakens familiar sensory memory, but these foods are not the famous cans of Andy Warhol's confident consumerism. They are full of artificial colorants and preservatives; they are spoiled things that only appear delicious, engineered into a state of perpetual freshness. This slow process is like a solemn yet amusing burial. In the moment that the plasticky food dings in the microwave, we are unceremoniously dropped into the end of the late-stage capitalist industrialized fast food production process, but no one announces what has ended. Because the people this food feeds have already been transformed into ingredients, they are prohibited from truly dying. In another video from the same series, Good Man (2017), a man dressed like a monk, his face full of melancholy, stares hopelessly at the candle before him and moans occasionally. In the sustained eye contact with viewers, the powerlessness in the face of reality conveyed by his massive countenance and pained expression allow us to envision ourselves in his place. Old-school fast food embodies our nostalgia for a past world of interaction, as well as our grief for the destruction that is already upon us. Choosing from past or future systematic destruction, which could make things worse, and which could bring about positive change?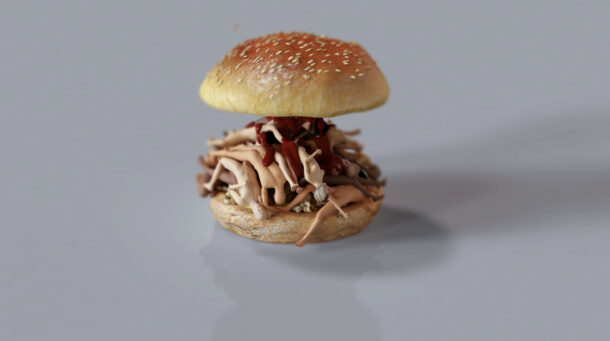 Ed Atkins, Untitled, 2017, video Still © Ed Atkins
Courtesy the artist, dépendance, Brussels, Galerie Isabella Bortolozzi, Berlin, Cabinet Gallery, London, and Gladstone Gallery
A dystopian McDonald's hamburger dances in this romantic nostalgia, within an empty temporal moment reminiscent of Waiting for Godot. This is a portent of the future; it is made more absurd by our deep awareness that a high degree of economic prosperity is already past: these familiar images reveal the cognitive anchors of the temporal coordinates of our memories as consumers and unintentionally open up the concise logic that is compressed within McDonaldization. In the way that capitalism operates around the world, a high degree of reliability, calculability, predictability, and control is internalized as the secret to holding the world order in the palm of your hand. The unquestioned symbolism of McDonald's, such as the Big Mac Index and burgernomics, has become a universal language that does, to a certain extent, connect food and purchasing power. It does offer a way for people to understand and conduct horizontal comparative studies of hunger and desire on a global scale. Speaking of scale, whether a region of the world has a McDonald's has even become an informal measure of economic development. At Venice three years ago, we could just catch a whiff of the immense changes that were taking place in the post-Brexit era from works like Old Food, and this year, we are reading momentous headlines such as "End of an Era: McDonald's Strikes Deal to Sell Russia Restaurants." Can we still remember how this all started? How did McDonald's—whose appearance in Russia initially marked the end of the Cold War—and the global multinational business empires it has come to represent successfully cater to local tastes in so many different places? How did it shape cultural visions of middle-class identity? And how did they once again become a symbolic target for anti-globalization movements worldwide?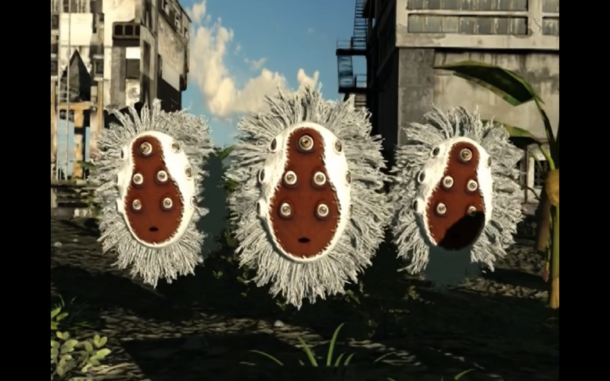 Elia Nurvista, The Maladies, 2021,Single-channel video, 10 min 41 sec
Courtesy the artist
The consumption issues associated with fast food culture, as represented by McDonald's, has made consumers realize that food guaranteed to fit a globally uniform standard of quality could be worth fighting, because free market consumers need to take responsibility for the consequences of their eating habits. What have the things we eat turned into and where are they going? How are they transforming people and the world? In a more symbolic sense, the new foods of the industrial era have become more like a visible medium; their imprint on the world has recorded intact the history of the benefits and detriments that globalization has brought to individuals. In The Maladies, Elia Nurvista comments on historical American advertisements and related documentaries that promoted bananas as health foods, likening the bacteria or diseases that disturb the large-scale proliferation of monocultures to the proletarians who resist the spread of global capitalism. The artist traces the banana's history as a tropical crop back more than fifty years; banana plantations were built on the large-scale exploitation of land resources and the establishment of modern irrigation systems. From the perspective of personified bacteria, the planting of a monoculture could be considered akin to the ways in which an organism in the endless pursuit of health controls others. However, at the end of her work, the army of bacteria that feels an affinity with farm workers will transmit diseases to the consumer world, but in the end, it must yield to the rigors of the capitalist system. The laborers, like the crops, cannot escape the conveyor belts of automated production systems. In fact, this phenomenon naturally involves a common global food politics: Should farmers and consumers in producing countries that must maintain monoculture economies, given the constraints of the current system, defend their food sovereignty? Particularly when this kind of farming relies more on the diversity of and coexistence with the agricultural, ecological, animal conservation, and sanitation concerns of nearby areas, is there a way to reconsider the design of the current system? Here, we can clearly see echoes of the work on food that Nurvista and her Bakudapan food study group have long performed. They engage with the historical movements and migrant histories of specific crops and eating habits, and they often appropriate pictures of food and related histories. They also directly share food with viewers and explore related issues. This study of food-as-medium is their way of critiquing post-colonial problems within current global capitalist industry.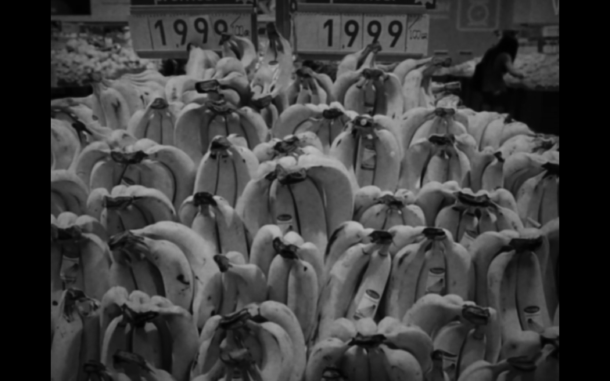 Elia Nurvista, The Maladies, 2021,Single-channel video, 10 min 41 sec
Courtesy the artist
We have discovered that the semiotic power of food lies in the fact that it's always in a flow of interactive relations. Serving as a concrete or abstract connector, food provides clues for speculative analysis at the intersections of event and circumstance, the subject and the external. In artistic practice, it's a natural and innate medium in relational aesthetics. You only need to taste Rirkrit Tiravanija's curry or experience the many communal eating projects in which artists (or non-artists) personally cook food for strangers in order to directly appreciate the conviviality of people gathering—a feeling that needs no explanation—and the ideas that collective cooperation can offer. Taking things one step further, some artists are also chefs and even tend to see the kitchen as a studio. They conceive of both as places where they can experiment with new ideas and completely blur the boundaries between cooking and artistic practice. In a sense, they extend the Surrealist-Futurist spirituality and imagination around food, but what makes people more interested in food is the seemingly insignificant place of things like fuel, rice, cooking oil, and salt within the routine of everyday life: food doesn't really stand out, but it is also ubiquitous and even becomes the punctum within our images of life, much like the tropical bananas that symbolize capitalism's self-propagation in The Maladies. If we trace this idea, then we see that food, as a concrete, delicious thing, leads to our ways of eating and digesting it. Food is certainly a basic need, transmuted into something that is a part of us, and which continues to inform how we shape the world we live in and determine whether we experience health and abundance, or malnutrition, famine, shortage, and even death.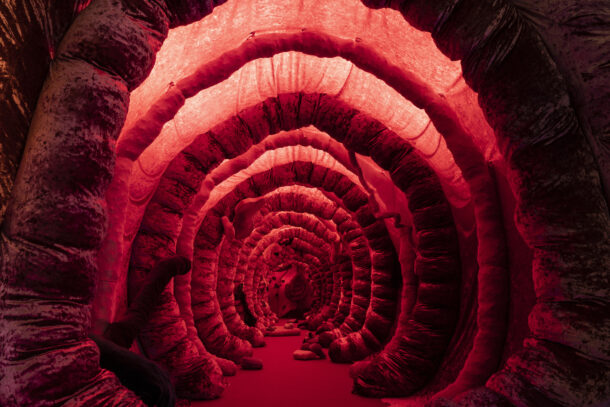 Dafna Maimon, Indigestibles: Last Resort, 2021. Immersive installation: textiles, velvet, wood, various materials, sound, light. Approximately 24 x 2.5 x 2.5 m. Photo: Maija Toivanen
Courtesy HAM/ Helsinki Biennial
Returning to the more directly observed form of everyday life, Dafna Maimon's video work Indigestibles: And Then There's Today offers scenes that may be closer to real life today. Maimon shows us the daily life of a middle-class white woman who lives alone. She spends her entire day at home, calmly taking fried chicken and chocolate waffles out of the refrigerator. Every time, she experiences a small joy activated by fried food or cocoa, but it can't be called happiness. She's curled up on the sofa watching TV, which plays a documentary tribute to Lucy the orangutan, a member of a species on the verge of extinction. The woman is quiet, often picking up her tablet to write down her thoughts about life, but she finds herself unable to type more than a few words. Her only communication with the outside world is phone calls to a few female friends, but she seldom says what she feels. The other works in her Indigestibles series, including the immersive installation Indigestibles: Last Resort and the workshop Indigestibles: Heartburn, seem to offer the interior view that pairs with the exterior in And Then There's Today. In the installation, simulated food slowly moves through the world of a small intestine covered with villi capillaries. Through visual and audio components, Maimon mischievously, satirically connects the human social consciousness and the bodily experience of digestion. If digesting people are objectified as the things to be digested in Old Food, then in Indigestibles, we see how daily life, in which everything happens so easily, accumulates in and blocks up a quiet woman's body. This reflects the more vivid side of a chronic illness, as well as the predicaments of modern life. The intestinal landscape becomes a witness to human life.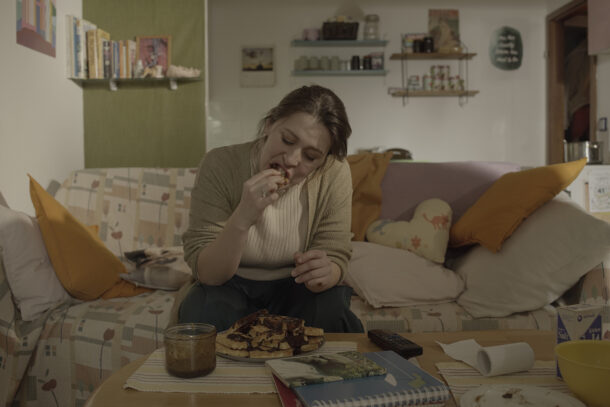 Dafna Maimon, Indigestibles: Then There's Today, 2021, 4k video, loop
Courtesy the artist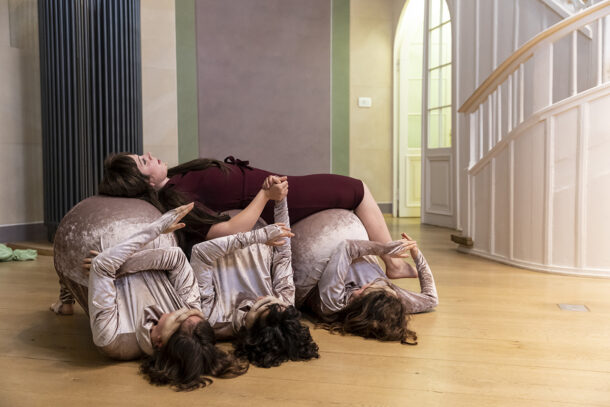 Dafna Maimon, Wary Mary, 2019. Performance, Tieranatomisches Theater, Berlin, 2019. Photo: Frank Sperling
Courtesy the artist
The notorious Typhoid Mary is the prototype for the protagonist of Maimon's performance work Wary Mary. Through dramatic monologue and dance, Maimon tells us about the various predicaments women face in contemporary life. In early twentieth century America, at a time when people did not understand asymptomatic transmission, a cook named Mary who did not know that she was spreading a disease, became the first asymptomatic carrier of typhoid. She served as a cook for several American families and caused numerous cases of the disease. A seemingly distant disease riding the tides of globalization and following the distribution of animals, crops, or food—although often isolated by bio-political methods such as tests for pesticides and food safety, or healthy lifestyles—spread to the healthy dining tables of the middle class in the developed world, before finally arriving at most people's bodies. Physiological diseases further permeate a society that could never have been cured, before transforming into secondary social ills or alternative vaccines. This may remind us of Shanghai's sudden lockdown in spring of this year, when many people in a city of material abundance directly or indirectly experienced food shortages and hunger due to sudden supply chain ruptures and resource shortages, as well as other long-term societal issues that these disruptions caused. In a sense, Wary Mary, which obscures the biographical details of a real person, became a mother that is experiencing contemporary chronic illnesses. Like the ordinary yet unyielding women that appear in Maimon's other stories, she often needed to navigate the loopholes in social surveillance and control to seize her obvious rights. However, when we find ourselves confined to our homes, we bury all of the stress and pain in the deepest, least visible part of the body—like the epidermal cells in the intestine slowly blocking rights to fertility and life that cannot be chosen or digested. Despite all of this, it's hard to accept. What is so moving about Maimon's work is that the food in it often becomes a way of emphasizing connections, regardless of whether they are expressed as microorganisms, family history, or gender inequality. All of this works as a metaphor for our lives—it's so close to our reality. 
Dafna Maimon, Wary Mary, 2019. Performance, Tieranatomisches Theater, Berlin, 2019. Photo: Frank Sperling
Courtesy the artist
Food is a matter of personal taste, as well as interpersonal connection. Whether it is the formal exploration of food as a material, artistic research of food-related issues, or the building of connections and communities through cooking and food-sharing, food is employed as a correlative in many artistic practices today, linking personal actions to social phenomena in a myriad of ways. Perhaps like a small onion that is round and pleasant on the outside but pungent and juicy on the inside, food-based creation may seem easy as pie, but is in fact wrapped in a keen awareness of the problems. Food can bring satiation, joy, and the gratification of generosity and hospitality, but when the many layers of the surface are peeled away, we are forced to reflect on the "common sense" of ordinary life, and dig out the roots of the pain that others or we collectively experience. 
Yan Fang is a curator at UCCA, as well as a writer. She currently lives in Shanghai.
Translated from the Chinese by Bridget Noetzel