Thomas Demand: The Stutter of History
May 19, 2023

|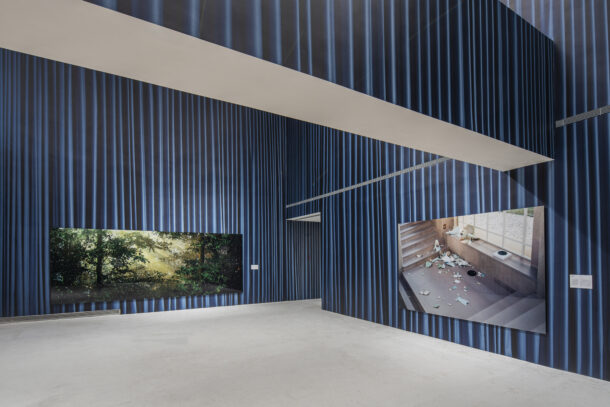 "Thomas Demand: The Sutter of History", installation view,
UCCA Edge, Shanghai, 2022
Courtesy UCCA Center for Contemporary Art
This past summer, UCCA Edge presented a retrospective of the German conceptual artist Thomas Demand, exhibiting over 70 works in the form of photographs, moving image works and architectonic wallpapers. The works on display spanned the artist's entire career, from the 1990s on, and included the large-scale photo installations that established Demand as an artist, the "Dailies" series of miniatures created since 2008, and his "Model Studies," first begun in 2011.
One would easily be able to distinguish between experiencing Demand's photographic installations in an exhibition from viewing them in a catalogue, online, or in prints. Although the same set of visual data could be stored in the latter, certainly the true experience onsite transcended the conceptual, material, and capital makeup that naturally denies photography's scale. But Demand's large photographs quite literally offered us a vision into such a notion of scale. They led visitors on a journey of reading paintings. The audience's first impressions perhaps came from a banal scene of empty spatial constructions, each as straightforward as its title suggested: Bathroom (1997), Gangway (2001), Office (1995), Refuge (2021), and so on. Moving on, viewers were met by more details within the images, slowly unfolding, assembling, and eventually reaching a transition point that dragged them into familiar and unfamiliar spectatorships. Instantly, as they realised that every corner was covered with paper, the paper became the skin; impressed upon the audience was an experience of witnessing the artist's total control over the images. It seemed so similar to studying large-scale paintings, where the slightest randomness is rejected. Viewers could only believe that everything, even the blank spaces and empty expanses, was carefully planned.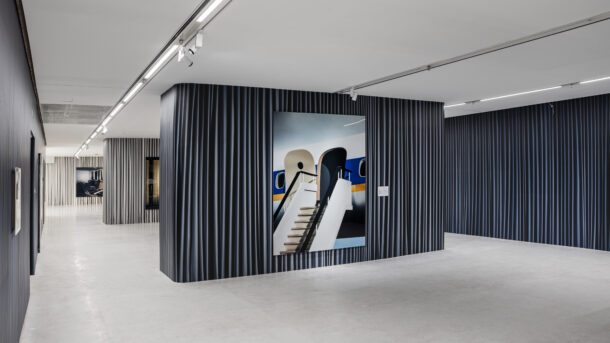 "Thomas Demand: The Sutter of History", installation view,
UCCA Edge, Shanghai, 2022
Courtesy UCCA Center for Contemporary Art
Much has been said about Demand's creative process for these images in text transcripts of past discussions and interviews. Even so, it is useful to review these narratives and locate the self-consistency in Demand's methodology. The artist would first select some source images from his own visual experience––for example, news––then piece these references together and create a scale model. He would then carefully study the perspectives and spatial relationships through a camera before destroying the model, and would finally reach a single image as the true replica––the ultimate representation of an idea. At the same time, the complicated functions of images were further celebrated; in antithesis to the material's flimsiness and disposability, paper also became a crazily accessible render region for man-made spectacles.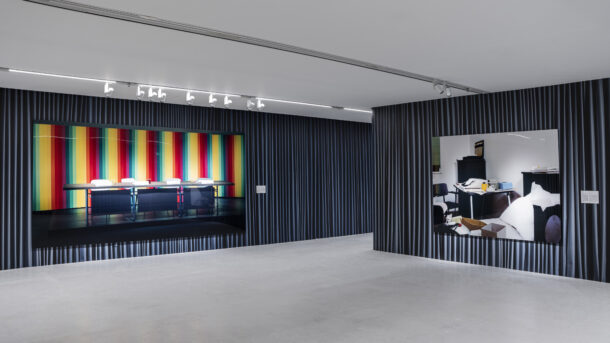 "Thomas Demand: The Sutter of History", installation view,
UCCA Edge, Shanghai, 2022
Courtesy UCCA Center for Contemporary Art
Also evident were a rigorous pursuit of photographic technologies and treatments. Unlike Jeff Wall's giant transparencies in lightboxes, Demand's large-format photos were sealed under Diasec gel, complemented by special wallpapers that cover the entire wall of the second floor. With the help from the meticulously planned luminaire arrangements, the transparent, rigid, and glossy acrylic sheets on top allowed the photographs an irreducible and uninterrupted materiality reminiscent of amber, jewellery, lacquer on a car, glass display cases in museums or malls. The perfect bonding of acrylic to the photographs further distracted us from the textured surface of paper-based prints, as if the facade turned them into flawlessly flat images. When a photograph was too large to be printed on a single sheet, it was divided into individual parts that were then put together under the acrylic. We could possibly find these seams in early works such as Studio (1997, 183.5 × 349.5 cm). But the seams persisted. So did the texture of prints that were framed beneath the same gloss, reminding each of the other's presence in a well-layered composition.
Similar to Studio, several spaces were chosen to be represented by large-scale photos. According to the artist, each was built to the same scale as the actual sizes, which is certainly amazing. In other works, such as Control Room (2011, based on the control room of the Fukushima nuclear power plant), Gangway (2001, based on the scene of Pope John Paul II disembarking from a plane during his visit to a unified Berlin) and Cave (2006, constructed out of 36 tons of cardboard), the walls, ceilings, and suspended structures were all real. Paper, and even cardboard, might seem either too fragile or too banal to hold the dense narratives. However, their intrinsic vulnerabilities were not absolutes; these qualities were indexicals (an expression whose meaning can change according to contexts) that undermined the perpetuating power within fixed narrativity. The indexicality led us to question: what was covered behind these materials? The wallpaper that covered the second floor and the temporary timber wall structures for the "Refuge" series (2021) on the fourth floor offered us Demand's answer.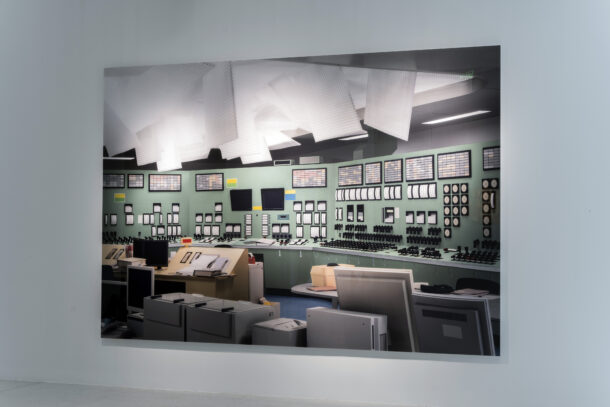 Thomas Demand, Control Room, 2011, C-print mounted on Diasec, 200 × 300 cm
Courtesy the artist, Matthew Marks Gallery, Galerie Sprüth Magers, Esther Schipper Berlin, and Taka Ishii Gallery
Although supported by an organised assemblage of artistic labour and fine craftsmanship, Demand's photographs on the walls became a contemporary sign of "potlatch" in the capitalistic context of the art scene. A contemporary collection of photography, expensively and exquisitely crafted and displayed, became comparable to the equally fetishizable objects (such as hand-built supercars) after a series of debatably righteous rituals: exhibitions investing heavily in site-specific artworks that would be removed and packed away right after the show, and celebrating the experience with audiences who would only be welcome if they purchased entry tickets. Besides the one-off tickets, the visitors were at most gifted with exhibition pamphlets, photo documentation and a so-called "distributed experience" of the exhibition. This echoed precisely the rationale behind Demand's dioramas for production/reproduction of images––the act of documenting became a ritualised symptom, and the image, as a focus of infection, was sublimated into a perfect facade for emptiness.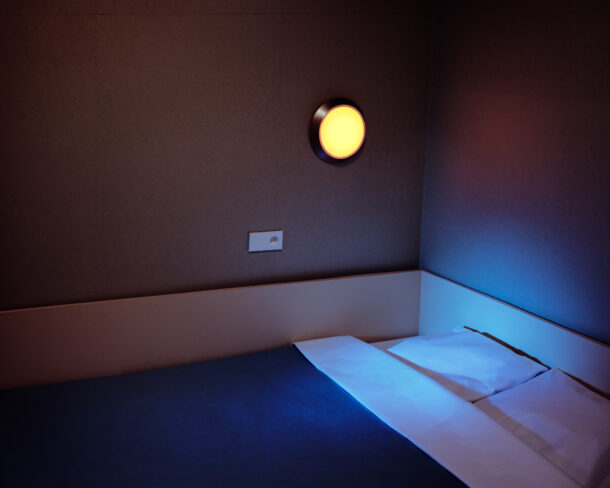 Thomas Demand, Refuge II, 2021,
C-print mounted on Diasec, 160 × 200 cm
Courtesy the artist, Matthew Marks Gallery, Galerie Sprüth Magers, Esther Schipper Berlin, and Taka Ishii Gallery
Let us return to the works. Telling Chinese audiences that the photographs in the exhibition were derived from news images would not help them establish an instant rapport with the displayed matters. From the German politician Uwe Barschel's death in Bathroom (1997), to Slobodan Milošević's lectern in Podium (2000), to Saddam Hussein's Kitchen (2004), the original news images could not be easily found in Chinese search engines. A possible explanation was that the news content varied according to contexts and discourses abroad. But even for Anglo-European audiences, the visual clues to some of the photographs were similarly untraceable. In a Chinese context, Demand's images were completely severed from the chained indexical references, morphing into a perfect signifier––a floating ghost in the local field of mass images and information.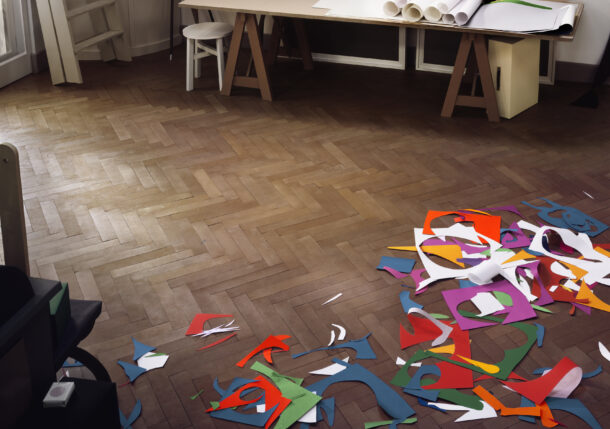 Thomas Demand, Atelier, 2014, C-print mounted on Diasec, 240 × 341 cm
Courtesy the artist, Matthew Marks Gallery, Galerie Sprüth Magers, Esther Schipper Berlin, and Taka Ishii Gallery
It wouldn't matter if you had heard of the Gazimestan speech or its political significance. You might certainly recall the huge backdrop containing the insignia and dating the beginning and end of the battle of Kosovo, as well as this large-scale acrylic framed photograph suspended on the wall of the museum. By reading the curatorial texts, you would also encounter the reconstruction of a new thread linking "image-spectacle", "text-capital" and "event-history". In Podium, you were led to find the parallelism of current national or international events and the news images that were included in texts under different sociopolitical contexts. "The Stutter of History" thus responded to the "elephant in the room", reminding us of the incapability of images' full representation of critical events in history. Like the radiant photographic installations in a white cube, photojournalism has never really been as transparent a visual medium as it always claimed. The question of what to be photographed, circulated, and viewed is also never unbiased.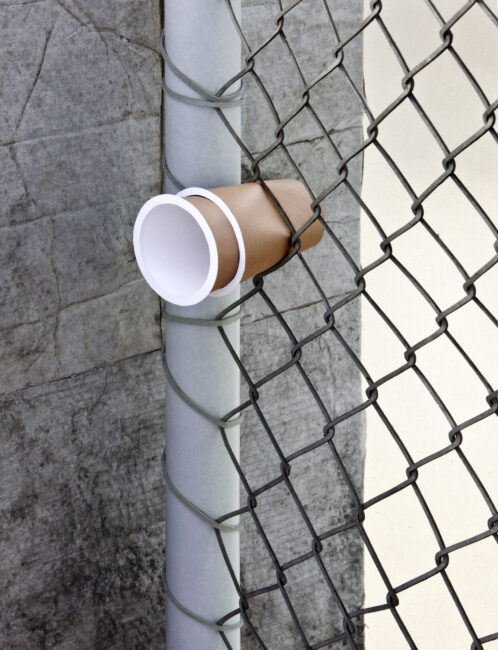 Thomas Demand, Daily #15, 2011,
framed dye transfer print, 73.8 × 59 cm
Courtesy the artist, Matthew Marks Gallery, Galerie
Sprüth Magers, Esther Schipper
Berlin, and Taka Ishii Gallery
Demand's small-scale mobile photography on the third floor reflected his consciousness of such questions. He has been reconstructing quotidian moments through model replicas and taking photographs in the same manner since 2008, but with a different tool and printing method––he took the photos with his smartphone, printed them with dye-transfer and framed them individually. The small photographs were clearly more evocative and tangible for the audience to participate in Demand's thoughts on the shift of collective consciousness and production logic of images since the end of the last century. It seems that image production has been stripped of their material and technical difficulties and instead became easily reproduced, counterfeited, distributed, and consumed in large quantities without enormous cost. In an age where images are too available for manipulation and exploitation, visuals with overdone sharpness, saturation, and compositional planning on social media platforms such as RED, TikTok, and Instagram, or even in papers like The New York Times, could be unreliable. Such insights might provide another way of reading Demand's architectonic photo installations and their connections with the broader visual culture.
Zhang Hanwen is an artist and filmmaker based in Changchun and Shanghai. By capturing photographs and video/film, Zhang's practice reflects on the technological trajectory and physical existence of images as well as their entanglement with ideologies and daily activities
Translated by Harriet Min Zhang