Growing in the Narrow Crevices of Crises: A Young Feminist Practitioner's Field Notes
July 25, 2023

|
Three years after the outbreak of Covid-19, one has witnessed the painstaking process in which China disclosed the previously unspoken fact that this country has disjoined herself from the rest of the world. The "new norm" rises above the so-called "state of exception," whereas the old lifestyle is condemned as "non-essential" or "unnecessary." The current situation is attributed to the accumulation of three years' regulations. There is no need to dwell on the impact of pandemic and the subsequent state-controlled enforcement of disease-prevention policy on all walks of life.
As a young female professional working in contemporary art, I try to recollect vignettes of three years' work from a feminist standpoint as winter of 2022 approaches. My reflections are subjected to my own disjunctive and incomplete experience, but I cannot resist putting it down on paper. I have always believed that personal feelings have their own value, and art is the best proof of this.
I joined the curatorial team of UCCA in August 2019, and headed out to Paris for a new exhibition on a business trip. At the time, I thought communication in real life with international artists was common. But in early 2020, all work-related communication was abruptly put to a halt or transplanted to cyberspace. Together with my colleagues, I started from scratch to explore how to curate and set up exhibitions through "100% remote collaboration"—meeting teams overseas in person was no longer an option. During the last three years, I was intensely involved in ten UCCA exhibition projects at Beijing, Shanghai, and Qinhuangdao. With no exception, all of these projects required a lot of online communication.
Such "crisis mode" has lasted three years without a clear sign to end. In the obscurity of political depression, I want to stay furious, alert, but also want to trace the shivering dim lights found on divergent paths which are far from enough to comfort the walker on a cold night. While waiting for the winter to end, I long for spring to arrive, just like my friends. Shall we identify snow-capped seeds, protect and take care of them, we may harvest a more vigorous spring.
I. Open-source intellect and digital avatar
In the pre-pandemic era, most meetings were set up to glean from limited financial resources and fixed place-time, with a handful of highly-educated, socially privileged participants. Online meetings and lectures were encouraged, though they were mostly supplemental to offline meetings. During the pandemic, many of us had to move meetings online via livestreams and encourage more "open-source" activities, thus giving rise to a digital network of intellect. The participants are expected to take part in discussions and acquire knowledge through online conferences and lectures, or even be present at multiple virtual venues all at once without actual travel. 
At day-to-day work, our staff has been accustomed to holding online meetings with international artists, co-workers, curators and researchers. Although online meetings are often blamed for their fractured, tedious, and apathetic process and format, they embrace a broad demographic and benefit young professionals, including myself. In the old days, these conferences used to require us to present ourselves at actual places. But now, a young professional can click on a link to arrive at internal meetings on the higher register, granting him or her more chances to be present within the milieu—even just auditing, it does the work.
In addition, cyberspace communication (online discussion per se) invariably eliminates the variety of participants' figures, voices, and shapes, paring down a group of individuals to a state of "homogenization". The terminal interface provides the users with display windows of the same size, sound outputs sounding alike, a limited set of social interactions and disclosure of private information (no longer need to smoke, drink or dine). These individuals who find themselves empowered by such a "homogenization" process are more likely to fall victim to all-encompassing, heightened (male) gaze against them (predominately females) at offline workplace. In meetings in real offices, women receive more unsolicited gaze upon their appearances, looks and postures which does harm to their professional aptitudes. The digital incarnations/avatars make a passageway for women to "de-sexualize" themselves. My reflection is that it does help us to refocus on women's professionalism and to provide them with a more equitable arena, in spite of concealing instead of revealing their identity.
I am aware that I might cite the "misogynistic" mindset if I take phrasings such as, "gender neutral" or "de-gendered" as a positive remark. Quoted Chizuko Ueno, "A feminist is someone who rises above and fight with her own misogynistic ideas."(1) I hope that women can leave behind social prescriptions of "femininity" and present themselves as who they are variably without digital filters on another day.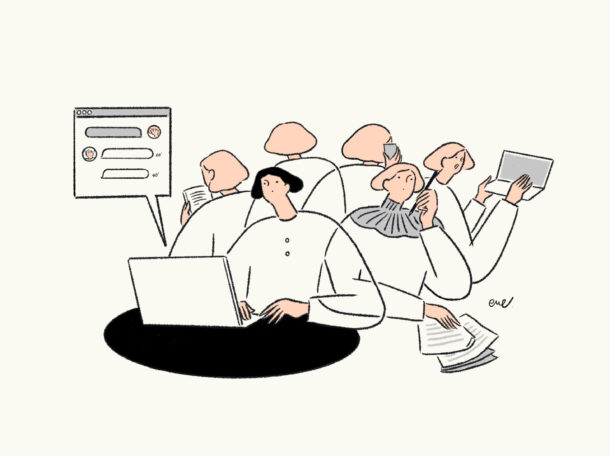 II. The Proxies and the Masterclasses
In spite of the fact that female employees take up a large part within the art industry, bringing feminism to the table, we have not yet broken free from the rules set by men. Most women hover in administrative and assistant positions, and only a small portion of them have access to initiating and carrying out a core plan. 
In the pre-pandemic world where global art events ran in full swing, it was commonplace to invite artists, curators, and technical teams abroad to visit China for preparation. The agenda of a (majorly female) staff at local institutions focused on communicative coordination. Many young Chinese professionals are accustomed to "learning by doing," since they are exposed to two sets of art systems at different developmental stages. My female peers "crouch" at work for years, only to find good opportunities and self-confidence always in wanting. I am also mesmerized by the probe into stereotypical gender guidelines prescribed to women which ask them to stay "behind the scenes" and avoid getting into spotlights. Quoted Chizuko Ueno, "Women are used to showing modesty, and they are afraid of being punished if they transgress this established gender norm." Had it not been the unexpected pandemic and subsequent travel restrictions, this state of affairs pertaining to women at work might have persisted longer.
In 2020, many global artists and project initiators found local Chinese "representatives" in wanting to assist in their projects in China. A good "representative" must have a good knowledge of the artist's idea and oeuvre. They are expected to play the role of the artist's proxy to sort out difficult conditions and make the right decisions. It is both challenging and rewarding all at once for young professionals. In this way, they move to the front as the "representative" or "proxy" instead of the artist's assistant, as greater responsibility often comes along with the new capacity to lead and execute.
When I look back on the major exhibitions that I was in charge of over the last three years, I realized that disruptive episodes, let alone the hardship, also created some great opportunities for me. Many of these artists I worked with led our working sessions like a masterclass: they taught us almost everything they could, ranging from ideas to structures, materials to coding. The "proxy system" also fuels the career path of young professionals who can use this chance to move to the front and promote themselves to a different level, thanks to "masterclass correspondences" which pinnacled at tacit mutual inspiration.
I must state again that the pandemic and its corollary disease-prevention policy impact the entire industry, and I do not intend to embellish the story. However, perhaps such first-hand observations full of antinomies prompt me to write down this note. I would like to see that more "proxies" are able to carry out more challenges and gain self-confidence throughout the process, or even become their own proxies in the post-pandemic era.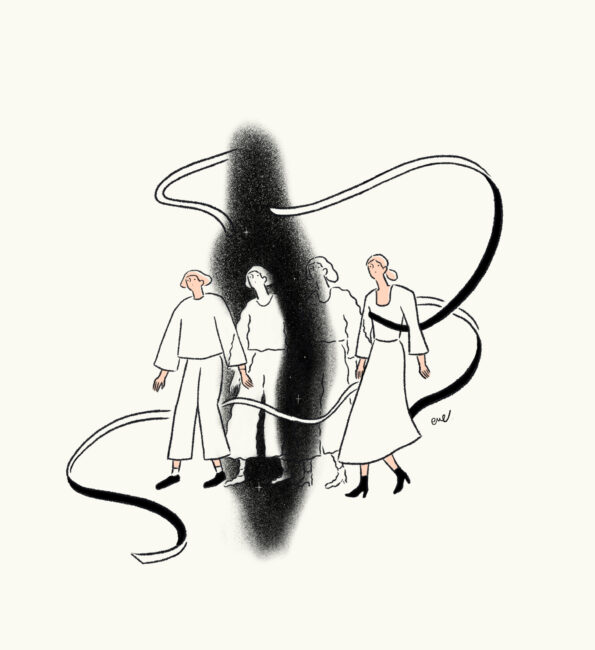 III. Sisyphus Around Us 
Till this moment, no one can guarantee she would be able to step out of her apartment without interference the next day. In the days shrouded in opaque uncertainty, many of us were placed face-to-face with special measures, and had to deal with inutile efforts and unexplained loss. In the art industry, most people are put through the Sisyphean cycle that events and plans are postponed, rescheduled, or started all over again. It is nonetheless no news to us that women often obtain such gain as to be disproportionate to the effort they make, thinking of all the domestic errands and care services they are asked to take care of. From the menstrual cycle to childbirth, women live with "uncontrollable bodies" for a long time, with their life always "disrupted and started all over again."
Honed by such life experiences, these women embrace resilience, patience, insight, communication and capacity to evoke empathy, all together building a wired mesh to resist crisis. They are unafraid to invest their passion and labor on what may not pay off and diligently build bricks and mortars in the shaking gaps. Over the last three years, my co-workers never failed to astonish me and made me believe that they worked hard to shroud a hollowing vacuum in colors. (4) While preparing for the solo exhibition of Thomas Demand at UCCA Edge (Shanghai) in spring 2022, I spent two months working locked-down with mostly female colleagues. We did our best to care for each other and shared food in April. During May, we held online movie-watching sessions, stayed connected and stayed together, and provided emotional outlets for each other in midst of distress and solitude. We wrote and shared weekly journals to track the pandemic curves and preventive measures in Shanghai with the artist's Berlin studio. It was for us to be on the same board again, and it was also an act to call for empathy from somebody overseas. In June, we quickly resumed preparatory work. We cope with all kinds of myriad situations— some of us failed to be present at the exhibition venue by a last-minute locked-down notice, and others must rearrange the worksheet or fill in the gap whenever possible. Finally opened in July, the gallery greeted its audience with walls covered in pink cherry blossom wallpaper—those flowers were up in March, and has now turned into a belated commemoration to the "lost spring" of Shanghai.
Both males and females work together on our team. I want to say that it prejudices against women to think that female competition is more prevalent to working groups predominantly composed of women. Contrarily, we have scripted a new story about women's solidarity. I am in debt to sisterhood within the female allies that connected isolated individuals with strength, wisdom, and care. There's no lack of courage, determination, or action for these women, since all these qualities shan't be identified to a specific gender.
Finale: Self-lit Lamp
The last three years are both short and long, and have changed almost everything. Written in late November, this note contains some dim light which may not suffice to provide for life in a raging storm, but this is an honest reflection of my feelings.
Chizuko Ueno coins the term "self-lit lamp" in Start From Limits: The Feminist Correspondences to describe that "one relies on the dim light at her feet to guide her own way," and she may burn up her own life to keep the light on. (6) This phrase also reminds me of Lu Xun's division of "fireflies" and "torch flame" which comes to me recurrently over the years. Now, three years after waiting for the "torch flame", the darkness still prevails and reigns, and perhaps there is no such thing like "torch flame", and we can only rely on the self-lit fireflies to lit up the road down our feet and our peers'.
[1] Chizuko Ueno, Disgust against Women (The Feeling of Disgust against Females in Japan), Shanghai: Shanghai Joint Publishing, 2015, p 233.
[2] Caroline Criado Perez, Invisible Women: Data Bias in a World Designed for Men, Beijing: New Star Press, 2022, p 110.
[3] Projects include "Immaterial/Rematerial: A Brief History of Computing Art" (UCCA Beijing, 2020), covering 70 works from 30 international digital artists; "Becoming Andy Warhol" (UCCA Edge, 2021), a large retrospective exhibition of more than 400 originals by Andy Warhol in collaboration with Andy Warhol Museum, Pittsburg; "Thomas Demand: The Stutter of History" (UCCA Edge, 2022), the inaugural solo exhibition of German artist Thomas Demand in China.
[4] Albert Camus, The Myth of Sisyphus, Tianjin: Tianjin People's Publishing House, 2018, p.133. 
[5] Female intrasexual competition describes the rivalry and antinomy between heterosexual women over men as they choose patriarchal ways of thinking. 
[6] Chizuko Ueno, Suzuki Suzumi, Shiyujixian: Nvxing zhuyi wangfu shujian [Start From Limits: The Feminist Correspondences (Genkai Kara Hajimaru Ofuku Shokan)]. Beijing: New Star Press, 2022
Ara Yun Qiu is an independent curator. She was the Deputy Director of Exhibitions and Curator for the past three years at UCCA Center for Contemporary Art. Prior to joining UCCA, she served as Curator at Long Museum and Qiao Space. Qiu is committed to supporting emerging talents, especially female artists, and building a more sustainable ecology for the contemporary art industry.
Illustration by Eve Yin
Translated by Edel Yang