Building and Dreaming
April 28, 2023

|
"A veritable hecatomb whereby our whole satiated culture revels in its own degradation and death." In French philosopher Jean Baudrillard's 1966 essay: "Le Système des Objets," he accounts that current art happenings (of his time) have brought about the suicide' or murder of the object. Yet, unbeknownst to him, the 19th-century turnaround about the object's dysfunctionality—primarily caused by the dual effects arising from the socio-economic system of production and the humanistic psychology of projection—would continue to run its course until our present age. Considering that, "Building and Dreaming" opens with this post-"cataclysm" chronicle.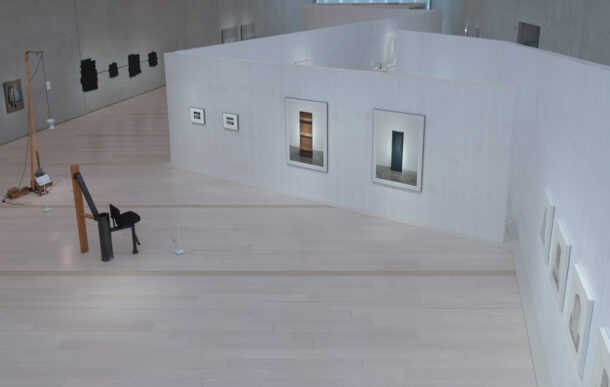 "Building and Dreaming", installation view,
BY ART MATTERS, Hangzhou, 2022
Courtesy BY ART MATTERS
Following the gradual merge between Clement Greenberg's assessment of modernist medium theory and the Duchampian avant-gardism, found object steadily make its way to dominancy in art discourse. Since then, the critique of such style in contemporary art has taken form in at least three phases: the minimalism movement during the 1960s-70s, the boom of new-media art in the 1990s, and the current globalized art market of the 21st century. Still, "Building and Dreaming" is not a didactic exhibition that aims to re-address all the aforementioned events. Instead, it brings together the works of over forty Chinese and international artists spanning more than half a century to construct a neutral theme: Dreams. The works reflect the relationship between the artist and the architecturally constructed element through an interplay of media such as sculpture, drawing, painting, photography, installation, and video.
Since its inaugural exhibition "A Show about Nothing" (2021 to the latest exhibition entitled "Building and Dreaming"), the curatorial direction of By Art Matters Museum has gradually shifted from the "intangible" to the "tangible." In the process, the museum hopes to cultivate for its public, a basic understanding of contemporary art's common themes through: theme and form, medium and concept, material and immaterial, technique and natural. Correspondingly, the collection grows, expands, and eventually sprawls into a multivariate polyphony. The radical semiotics of the object contrived by the advent of modernity and technological optimism is fleeting and brittle. Cumulating a plenitude of displays that have endured the dispute between the world of aesthetics and commodity/material objects, the exhibition tugs the once quiet setting and elicits our perception of the ecology of "objects" hidden in art.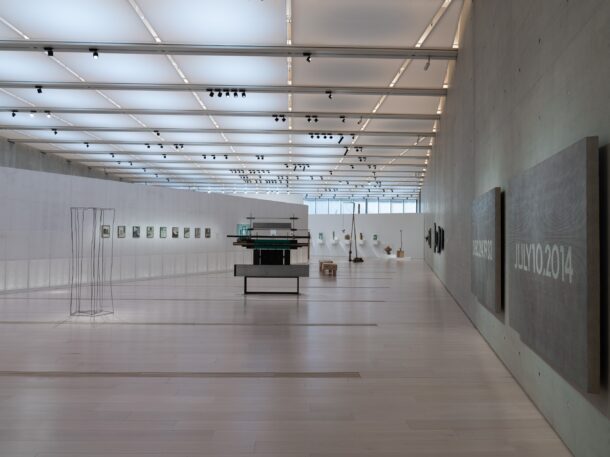 "Building and Dreaming", installation view,
BY ART MATTERS, Hangzhou, 2022
Courtesy BY ART MATTERS
The exhibition begins by displacing us in the looming shadows of colonialism, traceable to early modernism era, that indicate a historical past distorted by narrative. In Who will measure the space, who will tell me the time? (Gears) (2015), Mexican artist Mariana Castillo Deball wields an admixture of forms inspired by ancient artefacts and modern manufactured components into a column of stacked bearings. Her piece resembles an ancient totem with a postmodernist-twist. In turn, Enrico David parodies the museum gaze by choreographing archival printed paper and deformed clay figurine as a visual clue to a crudely-pieced version of history. With the sovereign narrative in historicism destabilised, the liberated material is now freed from its previous semantics and context as a former art object. The seizing of semiotics not only upsets the artist's claim of sole authorship but also re-contextualizes the produced object. Kishio Suga, for instance, divests subjectivity in Western conceptual art by distorting the order of his objects; Phyllida Barlow rebels through her anti-monumental sculptures made with a constellation of cardboard, plywood, plaster, cement, paint and fabric; Silver Ball (2019), Mona Hatoum collects hair isolated by the body through time to unsettle the idea of single interpretation.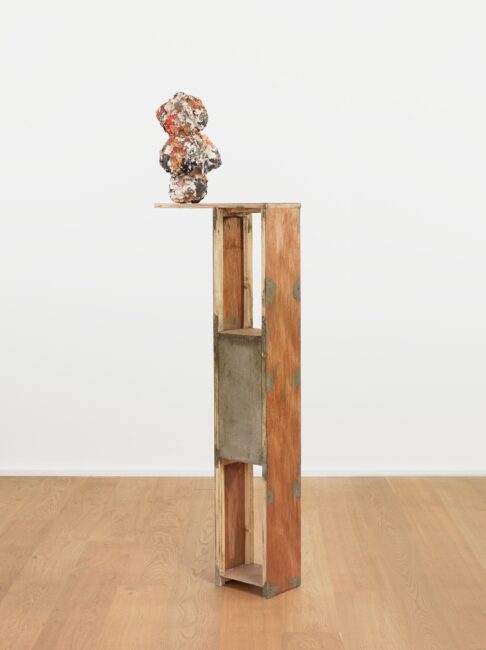 Phyllida Barlow, untitled: lipchitzplinth2013, 2013
Plywood, cement, polyurethane foam, aluminium armature, plaster, scrim, paint, PVA, 184.8 × 58.4 × 20.3 cm
Photo by Alex Delfanne
Courtesy the artist and Hauser & Wirth
"Building and Dreaming", installation view,
BY ART MATTERS, Hangzhou, 2022
Courtesy BY ART MATTERS
And with that, subjectivity withdraws from materiality. Perhaps echoing in Bernd & Hilla Becher's large-scale documentary photographs of water towers across Germany, as well as in the abstraction of light and shadow captured through the lenses of Yasuhiro Ishimoto and Feng Yan, are the whispers of stationary objects. As Nam June Paik once declared, there are two approaches to surpass Duchamp's radical application of the ready-made, the first is through spiritual reality, by Jasper Johns's technique of "painting" the ready-made, and the other is scientific reality, by his own practice of working with particles–electrons and protons. Thus, when Andrew Grassie worked into the tempera medium so immaculately via his thin veils of tonal overlays to achieve his photorealistic painting Monitor (2015), his gesture has, in fact, thoroughly integrated the two methods: Nam June Paik's TV Zen and Johns's Flag, into one. In a way that it surpassed Duchamp, reaffirming that the ontology of medium is material. Deeply immersed and seeking respite in the medium's labyrinth, the human presence lingers on.
At the innermost part of the gallery, the miniature turquoise painting blooming with luminous washes by Shinpei Kusanagi and the obsessively worked surfaces on Udomsak Krisanamis's Methane (1996), each in their own way, zealously contours the entropy of physical labour. Matthew Barney's Crown Victoria (2014), a zinc-casted sculpture of the undercarriage of a Ford automobile is a metaphorical totem for the twilight of modern America. Derived from his 2014 drama-documentary River of Fundament, it recalls a protagonist whose soul is reincarnated into three iconic American cars through three journeys of deconstruction and regeneration. Here, the immaculate carcass is left unburied in a grim rainforest of objects, where human nature openly gnaws on its decay. Through the manner of our corrupted language, this new articulation materialises itself into riddling oppositions: who feeds who, who corrodes who, and who regenerates who…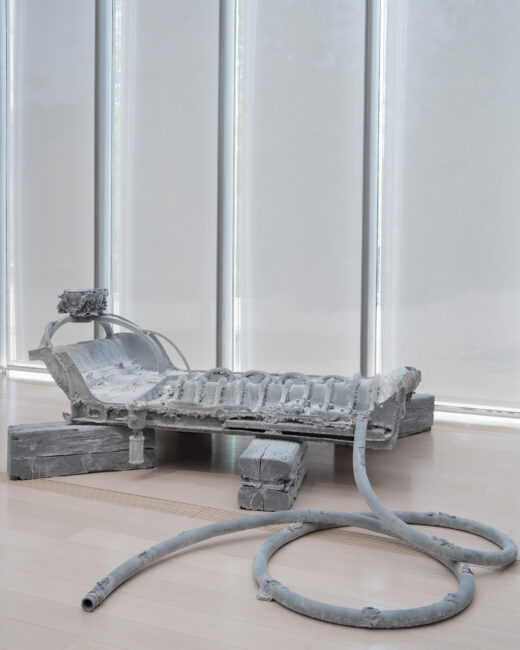 Matthew Barney, Crown Victoria, 2014
cast zinc, salt, 52 × 203.2 × 508 cm
Photo by Maximilian Geuter
© Matthew Barney, Courtesy Sadie Coles HQ, London
Amidst the imperfect, crude, temporal, onesome and broken—a new type of formalism emerges. From ready-mades (product) to found objects (material), beyond the inverted V-shaped path at the exhibition hall, the human figure suddenly reappears, bringing the theme of dreams to palpability. While something of oddness lurks in Mark Manders's sculpture that resembles a human head; Katinka Bock's sculpture Liegende (November) (2016), on the other hand, draws the viewer to a gratifying thought of reclining in bed. Being in a dream state also accelerates one's reading pace. In Time Life. Volumes 1-7 (2022), Mungo Thomson reimagines himself as a high-speed internet book scanner that renders the printed encyclopaedia into a flash of digitalised records. Through relentlessly processing, capturing, and freezing the object's moment of functionality, the physical object is consolidated into a material of technology under the duration of a single gaze. With Mind-Wandering (2009), Ou Wen-Ting materializes the exhibition's sense of detachment, as if it were "a dream but not a dream," by installing a periscope within her cloud sculpture, coaxing the viewers to feel like their heads are in the clouds or sinking into the deep blue.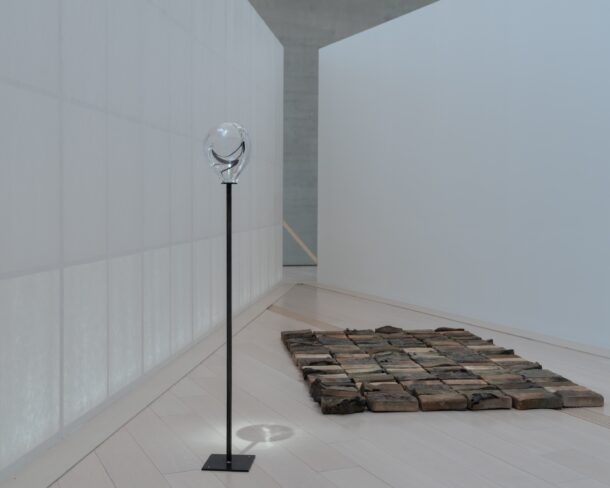 Elisabetta Benassi, Equivalenti II, 2014/2022
120 misshapen bricks, 150 × 243 × 10 cm
"Building and Dreaming", installation view,
BY ART MATTERS, Hangzhou, 2022
Courtesy BY ART MATTERS
Further pass through a narrow corridor, two works, situated at both ends by the new hall, pose an inter-text. At the entrance, minimalist artist Donald Judd's six hollow rectangular metal units are uniformly installed on the wall. Laconically entitled Untitled (1989), this piece clearly marks a renouncement of all traditional forms of symbolism and the old-school gaze. On the opposite end, Elisabetta Benassi's Equivalenti II (2018), a floor sculpture of 120 handmade bricks deformed by a fire, are grouped in a grid on the ground. Through the object's "deformity," Benassi's carefully composed piece expands on Carl Andre's notion of deconstructed space in Equivalence (1966), marching a new rebellion against the practice of forms in minimalism. Gradually, the plot comes to light: human nature's stubbornness goes hand in hand with the cycle of the object, and will continue to repeat itself forever.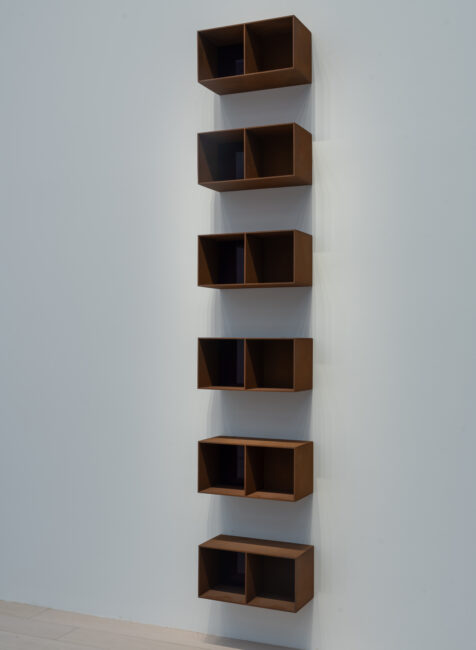 Donald Judd, Untitled, 1989, six cor-ten steel and purple acrylic sheets, each 25 × 50 × 25 cm
"Building and Dreaming", installation view,
BY ART MATTERS, Hangzhou, 2022
Courtesy BY ART MATTERS
At the exhibition epilogue, Takis's nimble, kinetic sculptures swivel with the surrounding air, as if motioning a gradual return to reality. Inevitably, we ask ourselves: what is the real object in this dreamscape of nature and technology? Mircea Cantor's  Aquila Non Capit Muscas (2018), a mexican saying which means Big shots don't sweat the small stuff, enlightens us with the answer to the real protagonist. As the observing third party, the camera's slow motion evokes a sense of foreignness that suggests this is, in fact, a trick question. What exactly is the artist's role in relation to the object? A creator who bestows life to it? A murderer who "kills" it? Or is the artist a facilitator to the breakdown of the object? Referencing Robert Rauschenberg's Erased de Kooning Drawing, when rubber debris containing Willem de Kooning's graphite drawing have rolled off the paper and long disappeared, the remaining canvas became a mere footnote that underscores Rauschenberg, the artist, as the subject. Despite the inclusion of semi-transparent wall surfaces to neutralize the museum interior's harsh concrete texture, the subtle glimpses of metal framing studs, clusters of white pedestals, and bright light boxes on the ceilings remind us: this eternal daylight is all but an artificial dream. At this moment of extreme wakefulness, it is the existence of objects that propels the world's heaving chest.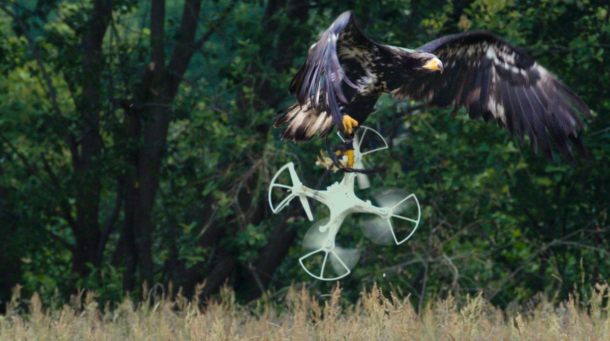 Mircea Cantor, Aquila Non Capit Muscas, 2018, HD Video, 3 minutes 6 seconds
Courtesy the artist
Considering the world as it is, have we lost our ability to dream? Our ability to build? Perhaps both? Are the objects on display truly free to articulate themselves, in their own individual nature, in their "objecthood"? Considering the latest discursive trend in new materialism theory, how shall the metabolism of objects perpetuate? Throughout the course "non-object/immaterial" in humans' relation to the world, the return to objects—dialogue, appropriation, tribute, rebellion, destruction, repair—should not be laid down to mere nostalgia for material aesthetics. Hence, when a particular model discourse in art breaks the temporal structure narrative of objects, essentially revokes and neuters specific experience bounded to objects, and re-ignites the ancient philosophical dialectic between "building" and "dreaming," it behoves a fundamental proposition for all contemporary art presentations: beyond all ostensible logic of the exhibition, should we strive for democracy or call for rupture of the historic?
Lin Canwen, curator, PhD candidate at China Academy of Art, Hangzhou. Her recent research focuses on the Fluxus movement and the "interstate history" that revolves around art and medium.
Translated by JY Deng