Trinh T. Minh-ha: Traveling in the Dark
July 6, 2023

|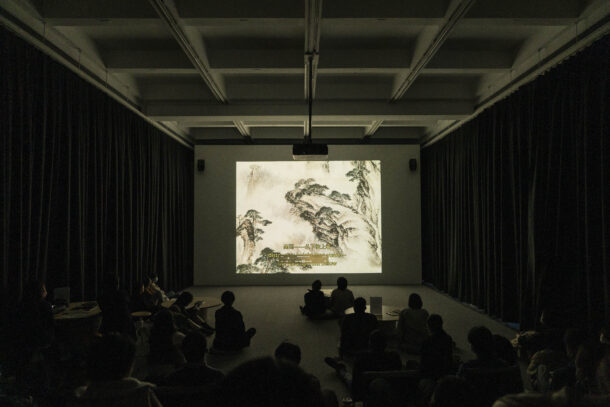 "Trinh T. Minh-Ha: Traveling In The Dark", installation view, Rockbund Art Museum,
Shanghai, 2022
Courtesy Rockbund Art Museum
Films of Trinh T. Minh-ha can be seen as a poetical paradox.
In her recent work What About China?, starting from Hakka Tulou (residential buildings) in Fujian with a rhythmic piece of music, viewers enter the interior of the building from far and near, followed by a series of long shots, "observing" the structure of Tulou and the traces of life of the residents from multiple angles. Such observation falls into a fixed pattern, for which the videographer stands still in a certain position, and then rotates the camera through its zoom function, forcing distant details to come close, for a meticulous and slow gaze. Thus, it creates such a duality of vision—the videographer's stable position ensures a physical objectivity, while the movement of the camera realizes a subjectivity in vision—a poetical, romantic way of viewing.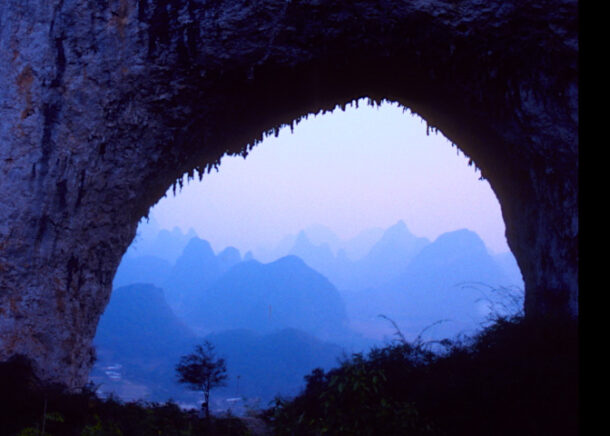 Trinh T. Minh-ha, still from What About China?, 2022, single-channel video, color, sound, 135 minutes Commissioned by Rockbund Art Museum
Courtesy the artist
Even though Trinh T. Minh-ha managed to use all methods such as multi-angle camera editing, sudden jumps, expansions, opening and closing of doors throughout the film, trying to conceal such camera language, to make the audience feel uncomfortable and uneasy, and to dissolve the audience's subjectivity, the above-mentioned sight still becomes the core of its visual expressions. Under such circumstances, the camera language that disturbs the viewer's perception is not so much a "reflective form of writing" as it is a deliberate method to conceal its own contradictions.

Trinh T. Minh-ha, still from Naked Spaces – Living is Round, 1985, single-channel video, color, sound, 135 minutes
Courtesy the artist
The unique view in What About China? is not only shown in this single film, but also applied to Reassemblage, Naked Spaces – Living is Round, The Fourth Dimension and other films in lineage. It is a paradoxical sight, a wishful and deep caress rather than an observative eye. Her lens contains a great tension between the objectivity that she tries to maintain and the unstoppable romance. Therefore, when we look at the innocence of African or Asian kids, lifestyles of indigenous people, rituals in Japan or traditional Chinese architecture through her lens, we may experience a strange "gaze at the other"—a gaze that is both emotionally identifiable and condescending.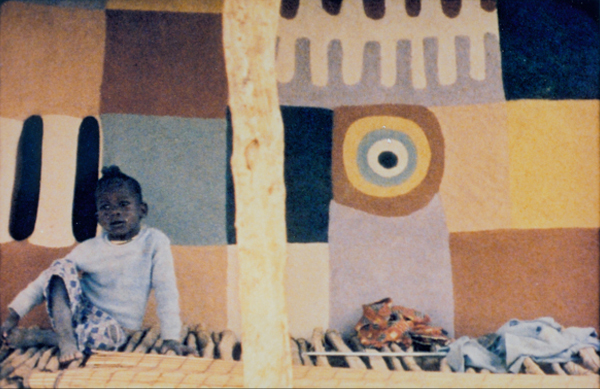 Trinh T. Minh-ha, still from Naked Spaces – Living is Round, 1985, single-channel video, color, sound, 135 minutes
Courtesy the artist
In Trinh T. Minh-ha's solo exhibition "Traveling in the Dark" at the Rockbund Art Museum (RAM), The Fourth Dimension and Naked Spaces—Living is Round are both set in the third floor gallery. In a sense, these two films share non-routine as a core element. Although Trinh attached some other elements to both films, such as the Japanese rail system, some daily scenes or domestic life and labor of the people in West Africa, non-routine festival rites, theatrical performances and religious activities surged like a tidal wave against viewers' visual senses, making those other elements almost meaningless embellishments.
Under the duality of vision created by Trinh, festivals, rites and theatrical performances are all alienated. The kind of staying-still objectivity in her perspective has stiffly cut her off from real living and from in-depth field work. That gaze may be euphemistically called an "inspection," but the distance created by objectivity has assumingly broken away these non-routine elements from their deep and broad culture matrix, disconnected from the real life, and become a form of cultural specimen befitting the post-colonialism theory.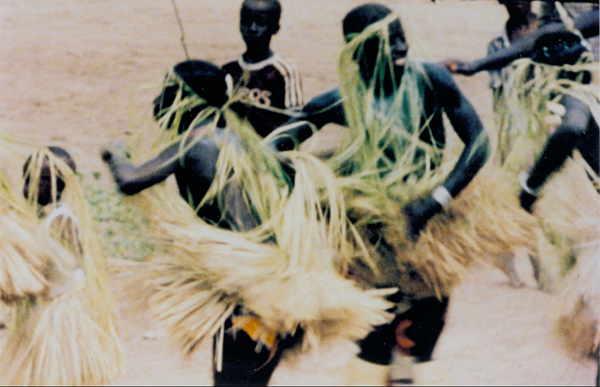 Trinh T. Minh-ha, still from Naked Spaces – Living is Round, 1985, single-channel video, color, sound, 135 minutes
Courtesy the artist
At the same time, the deep, touching gaze has stripped the broken cultural specimens of all details, re-breaking them in another context and presenting them as aesthetic elements available for appreciation. Imagination of the orient tinged with post-colonialism theory is all over the gaze, in which not only Japanese or West-African festival rites, theatrical performances, religious event, but also traditional Chinese architecture, landscape paintings and opera, all suddenly become the only invaluable and important weapon to fight against the invasion of Western culture. However, as disconnected from real life as these traditional cultures are portrayed in her film, they are like floating weeds on the water, being only a superficial cultural appearance for human consumption. With the rendering of those ethnic music, these clips slide into a strong exotic atmosphere instead, giving a sense of national tourism propaganda.
There are also ravings-like narrations in the films. "Passing the torri gate, one encounters the inside of Japan, only to be made more aware of the outside Japan. Torri gate, setting off the mundane from the spiritual." "Opening at dawn, closing at dusk, sorrows forming and falling away, heavy, like drops of water from a lotus leaf. Everyday, like a blossoming lotus, something's emerging." "Only when behavior carefully rehearsed becomes selective, do differences fully take on their individual color"…… These narrations, just like her films, can never be implemented in concrete living, including those interview monologues filled in What About China?, which are more like a discursive spectacle. It does not only fail to be as she said, "In a good talk, don't explain everything," but instead reducing these words to rootless woods that neither lead the audience to real living nor stimulate viewers' imagination.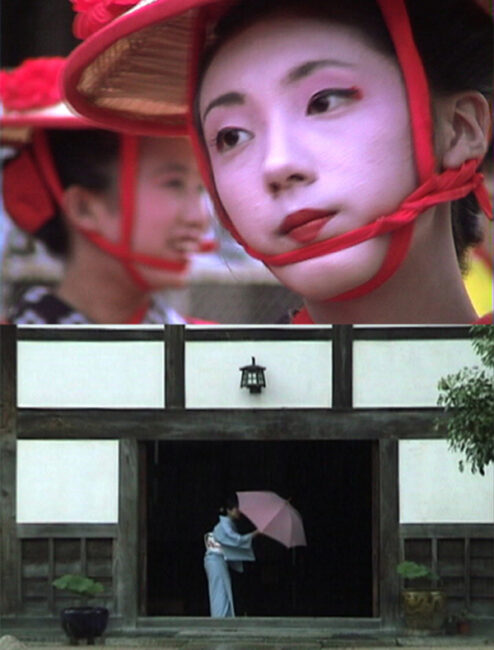 Trinh T. Minh-ha, still from The Fourth Dimension, 2001, single-channel video, color, sound, 87 minutes
Courtesy the artist
As to why Trinh is so fascinated by traditional culture of the orient, the answer may be found in another of her works, Night Passage. In the film, she portrayed the cliché of two oppressed orientals in the West returning to their traditional culture along the modern railroad, looking for their "mother," witnessing her being strangled by Western modernity, and finally, reluctantly returning to the reality. In this process, the real situation of the East is ignored and obliterated. Thus, the only way to reiteration is to discover and recover the traditional culture of the orient, for which is rather an illusion of truth tailored for post-colonialism.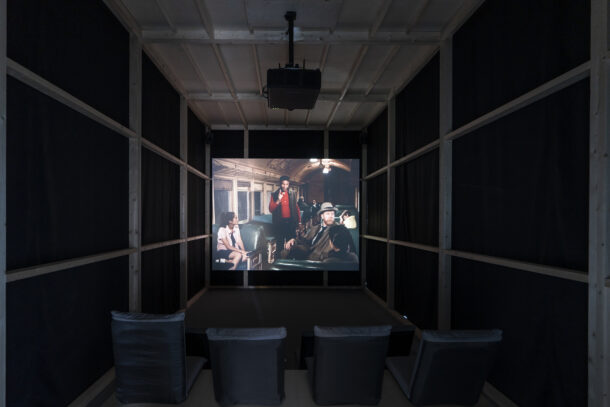 Trinh T. Minh-ha, still from Night Passage, 2004, single-channel video, color, sound, 98 minutes
Courtesy the artist
"For me, film is first and foremost an experience of the body," Trinh emphasizes her point during the opening interview of "Traveling in the Dark," "That means, no matter what kind of luggage and knowledge you know you have of the area, or all the research that you did before, as soon as you start shooting, you leave all these luggage behind, and you enter with a non-knowing part, which is also part of 'into the dark' to make films." If one compares her quote with the stable, distanced physicality in her film, one may further feel the rupture of language and experience in her works. Perhaps Trinh T. Minh-ha's world of art is just like how the exhibition space is designed on the fifth floor of RAM, filled with poetic and theoretical phrases. The words printed on transparent plastics seemingly form a solid invisible wall that separates her art from life and physical experience, while the poeticism she instills in these words conjures an illusion of life.
Lin Ye is an art critic and translator, engaged in research on visual culture and translation of photographic theory.
Translated by Yao Yang