Who Is He?: A Retrospective Exhibition of Geng Jianyi's Works
July 6, 2023

|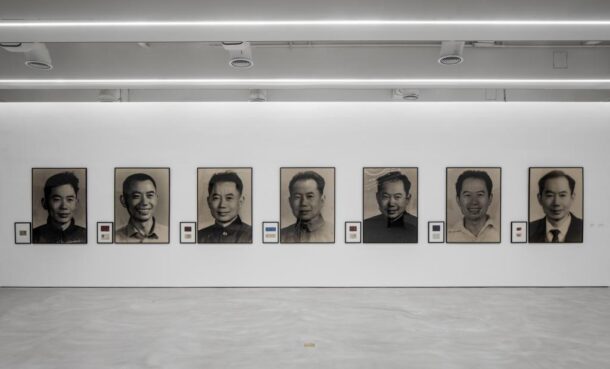 Geng Jianyi, Who Is He?, 1994,
26 pieces comprising written statements, drawings and photos, A4.
Collection of Kroller-Muller Museum, Otterlo, The Netherlands
Courtesy Power Station of Art
Who Is He? Geng Jianyi's solo retrospective exhibition at PSA is emotionally charged, and has been shaped by the combined efforts of many friends and family members from the artist's life; it is also an exhibition in which the protagonist is absent, as Geng Jianyi passed away five years ago. In the article "Oral History: Geng Jianyi of the '85 New Wave of Art': Seeing the World Differently Through Art," published in Art World in 2006, the artist claimed that "incomplete materials combined with personal imagination equal history," and the presentation of this exhibition reflects on this statement.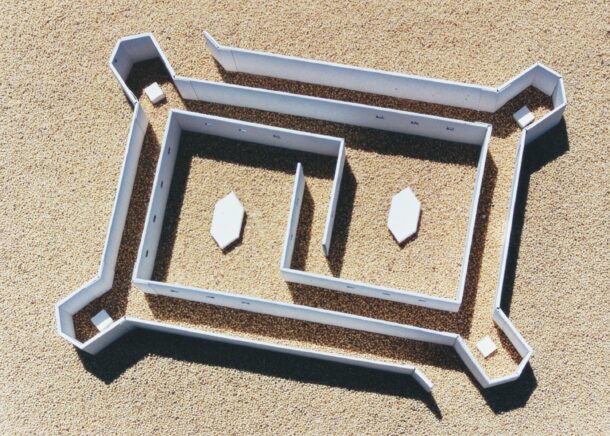 Geng Jianyi, Tap Water Factory, 1987, model
Courtesy Power Station of Art
From the mid-1980s to 2016, nearly 100 artworks were made; they can be considered as "incomplete materials" in regard to Geng Jianyi's lifetime of creation. The artist was extremely passionate about organising events and activities. Who Is He? (1994), On the Ground (1997/2022), and Tap Water Factory (1987/2022) all demonstrate his skill in mobilising the power of a group. From Forms and Certificates (Make Some Account Of) (1988) to Not a Realistic Choice (1995) and Useless (2004), his collaborators were not limited only to those within the art world. Neighbors, friends, strangers, audiences, "people": they have always been important materials in his work. He put himself into his works, and therefore the artist, artworks and materials have established a certain relationship of mutual constraint, implanting creating art into society. Geng Jianyi always functioned as an initiator, bringing together elements from his life: his experiences, the background of the era, and the purpose of his creation, combining the three to a specific coordinate point and then exploring them in his unique way. Geng Jianyi stated: "What interests me is what has happened, what is happening, how it will develop and what my role is in this process." This collective group synergy makes the artist's own "presence" less important, and yet he is always "present"— Tap Water Factory, The Second State (1987), and other artworks have reappeared in this exhibition, once again returning to the field of society. The artist's acts of creating and processing, along with the results, together constitute a relationship of "locality." These are precious aspects of conceptual art, as the process of transposing or translating the real can be recreated again and again.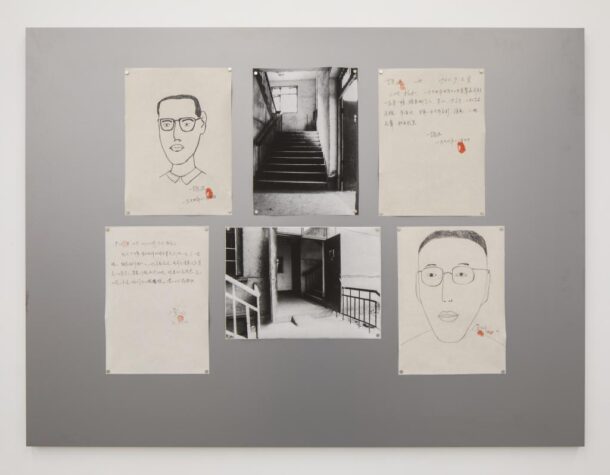 Geng Jianyi, Who Is He?, 1994,
26 pieces comprising written statements, drawings and photos, A4.
Collection of Kroller-Muller Museum, Otterlo, The Netherlands
Courtesy Power Station of Art
The series containing People Do Exist (1994), Proof of Existence (1988), Impossible to Name (1996-99) and Portrait (2000) are topical to current situations. Firstly, People Do Exist explores how a "person" proves his or her identity: whether a photo ID, an original certificate, a letter of introduction issued by an institution with public authority—this is enough to prove a person's existence, something which today has been replaced by other forms of ID such as facial recognition and health codes. But in reality, all kinds of ludicrous incidents only prove the lack of credibility in "official recognition," to the point where individuals with even transient power can overturn it in an instant. Secondly, to quote Geng Jianyi directly: "When the faces of people overlap, they are no longer a specific person. This abstraction is an instinct in Chinese culture–we are more accustomed to the atmosphere of 'you in me, me in you'." The faces of individuals in the crowd are already blurred, and today, behind the masks, faces seem to blur even more.

"Geng Jianyi: Who is he?", installation view, Power Station of Art,
Shanghai, 2022
Foregrounded work: Floor, 1997/2022,
installation of colour photos,
80 × 80 cm, 25 photos in total
Reproduced for this exhibition from
the artist's concept
Courtesy Power Station of Art
"At that time I saw three kinds of works: one type with an artist who takes something directly from someone else, use it, then create the work; one with a smarter artist using someone else's formula to solve his own problem; and another with an artist who found that the formula didn't work well and solve the problem himself." Geng Jianyi's creative experience goes hand in hand with the emergence of Chinese contemporary art and with the country's rapid development, but the scene today verifies that history always repeats itself, and a sudden return to a moment in the past isn't very surprising. Geng Jiangyi's work has not fallen into the same rut as that of some of his contemporaries, which is to try to represent the diversity and complexity of China's contemporary social problems in the form of conceptual art by correlating them with international issues, or to over-emphasize individuality and overuse philosophical and academic "tricks." His concern was always "How to see? How to prove? How to regulate? How to read? How to visualize? How to recycle?", as the most relevant questions to art, and Geng Jiayi indeed created his own formulas. Many of the works in the exhibition "Who Is He?" are still valid today.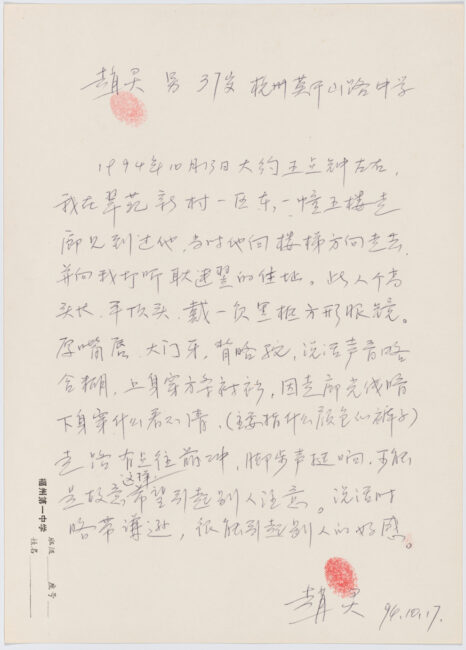 Geng Jianyi, Who Is He?, 1994,
26 pieces comprising written statements, drawings and photos, A4.
Collection of Kroller-Muller Museum, Otterlo, The Netherlands
Courtesy Power Station of Art
Towards the end of the exhibition, visitors can look out from the space to the waters of the Huangpu River. Power Station of Art has long had a connection with water, and the last Shanghai Biennale emphasized that "water is also a carrier and an essence," linking the past, present and future of a city with it. Geng Jianyi once said that "Art can be learned, not taught," but now with "Who Is He?" and Tap Water Factory at its entrance, the visitors become a kind of water, the tide rising and falling, unaware of what will be left behind.
Meng Xianhui is a writer and art critic. She held a bachelor's in history and a master's in theories in fine art. She was the senior editor of The Art Newspaper China and has contributed to many art and fashion media.
Translated by Echo Wang