An Exercise in Mutual Care
January 18, 2022

|
"What does a decentralized society for mutual care look like?" The question was asked by designer, theorist and project developer Yin Aiwen, the founder of ReUnion Network, at the very beginning of the project. Her work aims at developing relationships between people and digital systems in a way that allows for agency and self-determination. Its intention is two-fold: it aims at interrogating the technology of design by way of imagining a decentralized Internet, while seeking alternative proposals for caring in the face of globalized ageing. Both the old Internet and the emerging technology of blockchain had once promised us a utopian vision of decentralization, yet, in their actual development and implications, failed to touch core issues such as the elimination of social hierarchies and the realization of equality. Driven by capital and power, technology has always been in the hands of the 1%.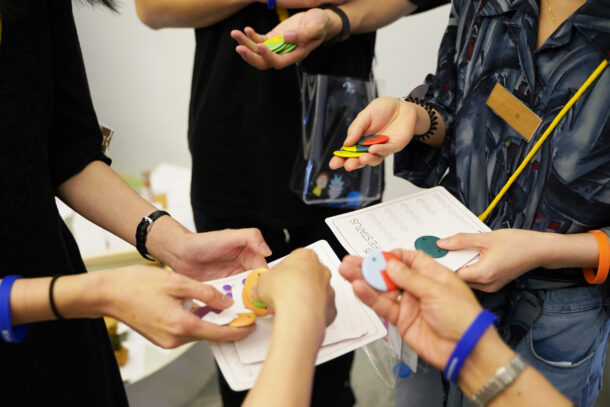 Liquid Dependencies (community fundraising), 2021, role-play game. Photo: Pan Yannan
We see the impact of technology on the rest 99% from the tectonic shift in the labor force, marked by the continuous rise in the number of workers opting for flexible working on a global scale. Responding to the structural changes on the macroeconomic level, workers have left traditional service industries and flooded into the new spaces for employment opened by technology. Meanwhile, as the media perpetuates anxiety over AI's total replacement of the human workforce, research on Ghost Work has nonetheless proved that "the last mile of automation", which exists because of the difference between computers and humans, is unlikely to be solved by computing. Rather, it is human agency and creativity that have been making up for what technology lacks. This is where the importance of care work comes to the fore. Even with developments and experimental implementations of AI in the medical field, the individualized skill sets and emotional labors of frontline care workers — doctors, nurses, and domestic workers alike — remain irreplaceable.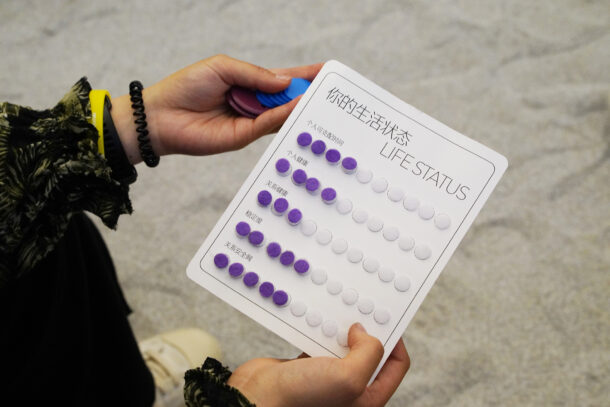 Liquid Dependencies (role assignment), 2021, role-play game. Photo: Pan Yannan
A return to care work's roots in terms of the affect and the value of that very labor becomes the basis of imagining a decentralized commons powered by Peer-to-Peer (P2P) care. ReUnion is a smart-contract network based on a token system backed by blockchain technology, in which two Personal Tokens, non-fungible and uniquely belonging to two users, make a combined currency — the Composite Coin — through a relationship validated by longterm contracts, which avoids the potential devaluation of care work and fosters a P2P relationship of care. The system adopts blockchain technology only because it is presently deemed the most appropriate. As soon as a truly decentralized relationship is realized, it will be time for the technology's exit. Having laid the theoretical foundations and completed research on the methodology for ReUnion Network in Europe, Yin started a residency at Dinghai Qiao Mutual-Aid Society in Shanghai, before bringing this social experiment to real life.  Together with sociologist Zhao Mengyang and education/social worker Zhao Yiren, their ideas and practices collided and sparked into a Live Action Roleplay (LARP) game, mixed with theater performances and facilitation workshops: Liquid Dependencies (2021).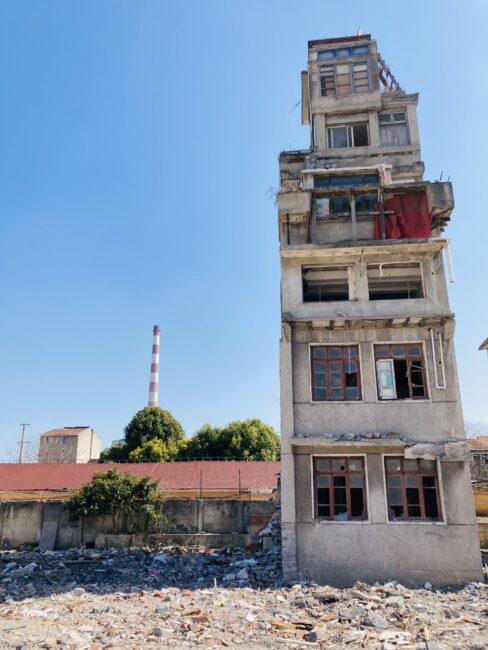 Drastic urban renewal near Dinghai Qiao, 2020. Photo: Zhao Yiren
Founded on the methodologies of ReUnion Network, Liquid Dependencies is set in a near-future two to three decades away from 2022, each game, lasting four to five hours, requires eight to ten players, five to eight Non-Player Characters (NPCs), and two to three social observers. Collectively they simulate two to three decades of living together. Each player enacts one of 35 available roles, all based on real-life occupations and assigned at random, and utilizes Personal Tokens and Composite Coins to build relationships with others in the commons. The game, despite having various flexible or fixed settings that guide players, is pretty much open-ended: a player is at liberty to choose their gender, sexuality, and ways of handling personal and societal events, to arrive at relationships beyond social classes, occupations and age barriers. In this tug-of-war between the mirrored and imagined visions of society, players gain an experience to be reflected upon, in which they try to step out of their situated social relations, connect with a more diverse crowd and experiment in the making of a caring community.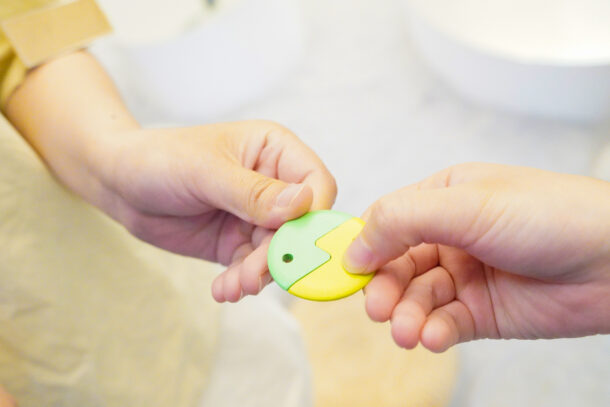 Liquid Dependencies (community fundraising), 2021, role-play game. Photo: Pan Yannan
In a mutually alienating society stagnant in its class differences, imagining a society of care through the medium of theater is without doubt a challenge. Compared to ReUnion Network, which exists as a methodology and a speculative model, Liquid Dependencies is grounded in the frequent interactions between real players and thus relies to a greater extent on local fieldwork and experience in community organizing. Zhao Mengyang's research on the societal workforce, along with Zhao Yiren's experience with cooperation, education and community building—a result of her long-term involvement in Dinghai Qiao's Co-op Project—have therefore greatly contributed to the design and implementation of the game. Located on the third floor of a residential building on Shanghai's Dinghai Road, Dinghai Qiao is a community built on mutual aid. In 2018, it initiated the Co-op Project, in which members co-maintain the operations of the space and the community, through rent sharing and collective decision-making. What sets Dinghai Qiao apart from other self-organized spaces is its attention to individual needs and growth, the collective process in which the community matures, and the fostering of hybrid connections with its local neighborhoods and the city. These qualities are the crucial preconditions that allow for ReUnion Network's continuous evolvement here.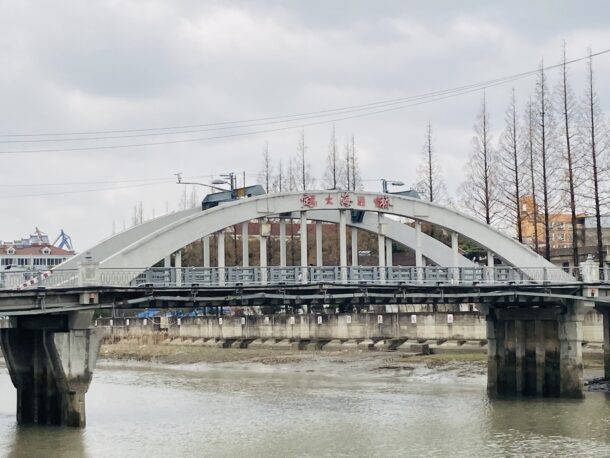 "Dinghai Qiao" on Dinghai Bridge. Photo: Zhao Yiren
How to first guide an NPC player, occupying a certain societal role, to approach and initiate a relationship with another player? How then to let two players, who are strangers, make connections through a process of imagination based on their assigned characters? Moments like these, which require a sense of creativity, heavily rely on a repertoire of knowledge gleaned from the daily practices of mutual care. Having played three games as a player and an NPC, I gained a clear sense of how an experienced NPC would maneuver through the social scaffoldings that limit the players' imaginations of their respective characters, by way of performing, questioning and communicating. The NPCs have to similarly update their own perspectives on relationships based on real-time observations, during the entire course of the game. Even after the game ends, a shared understanding of relationships is still needed, in order to fittingly maintain the bonds between the players and the NPCs and inspire more discussions and creative practices to come.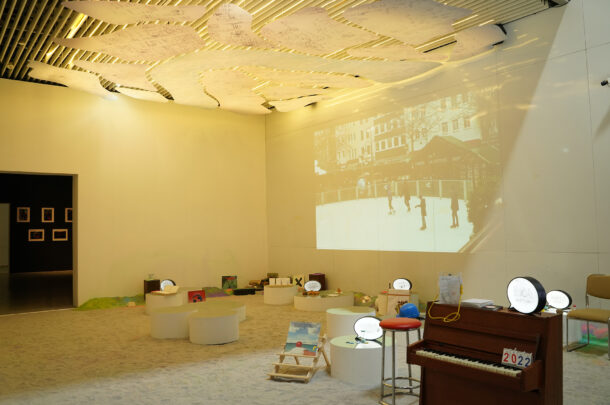 Liquid Dependencies at the 13th Shanghai Biennale, 2021. Photo: Pan Yannan
As of now, Liquid Dependencies has assembled its own NPC theater crew. Mostly consisting of veteran players, the crew attracts volunteers from all walks of life, whose interests lie in different aspects of the game. Crew members meet regularly and spend time sharing personal experiences playing the game and experimenting with potential directions by which to better it. This process itself has given impetus to the community's further growth, and towards the gradual realization of a decentralized game. The crew's publication, the ReUnion Weekly takes up the responsibility of knowledge production within the community. Curated by a team of editors, columns featuring "Players' Submissions", "Residents' Reports" and "Creators' Talk" become a channel to reflect on the gaming experiences; translations of care theories are published alongside as a reference point for these discussions. Built up from the game and as a response to players' feedback, a series of "Personal Growth Workshops" are currently in the making, and will be open to larger groups of players soon. Beyond the world inside the game, the real-life relationships and exercises in care are in fact the cornerstones for imagining a caring society.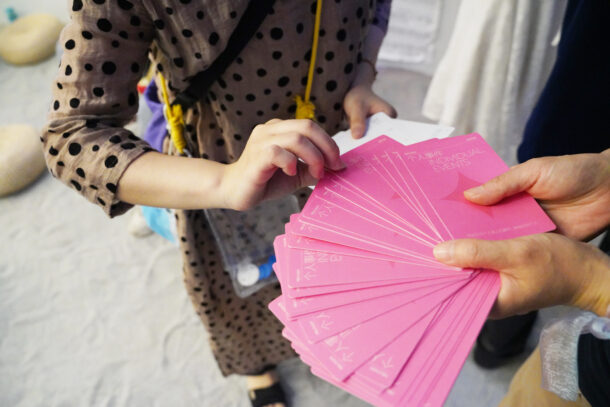 Liquid Dependencies (activity assignment), 2021, role-play game. Photo: Pan Yannan
Every self-organizated community needs to confront the tasks of mutual aid and care with urgency. Overwhelmed by structural stress and anxiety, abstract beliefs alone can no longer generate heartfelt connections among us. If friendship is to be reconsidered here, it is not hard to see how it encompasses the traits that, abstracted and reduced to concepts, had once become alien: the abilities to look after individual needs, to emphasize, to live together and more. In his book Mutual Aid (2020), scholar and activist Dean Spade summarizes the historical lessons provided by social movements in the U.S., as well as the new dilemma posed by the pandemic and the global political landscape. Spade, who has been offering legal support to various organizations and communities, posits that at the core of a community's vitality, are individualized care and internal solidarity, which uphold and sustain it through internal and external crises. This might explain why, in the face of recent urban renewal programs that led to forced housing demolitions around Dinghai Road, Dinghai Qiao Mutual-Aid Society stays intact. As always, friends walk up to the bridge and chat in the breeze. A storm has passed and everything remains unchanged. The friendship of mutual aid and care lives on, so does the community, as vital and connected as ever. 
*This article benefits from the many conversations with Yin Aiwen, Zhao Yiren and Zhao Mengyang, the creators of Liquid Dependencies. 
References
Gray, Mary L., and Suri, Siddharth. Translated by Zuo Anpu. Ghost Work: How to Stop Silicon Valley from Building a New Global Underclass. Shanghai, China: Shanghai People's Press, 2020. 
"Liquid Dependencies: Everything You Want to Know". https://mp.weixin.qq.com/s/Dj-5ywY-FxuCIEOjPJAA3A.
Spade, Dean. Mutual Aid: Building Solidarity During This Crisis (And The Next). New York, NY: Verso Books, 2020. 
Guo Yun is an associate curator at the Media Lab, Guangdong Times Museum.