Unfinished Collectivisms
March 3, 2022

|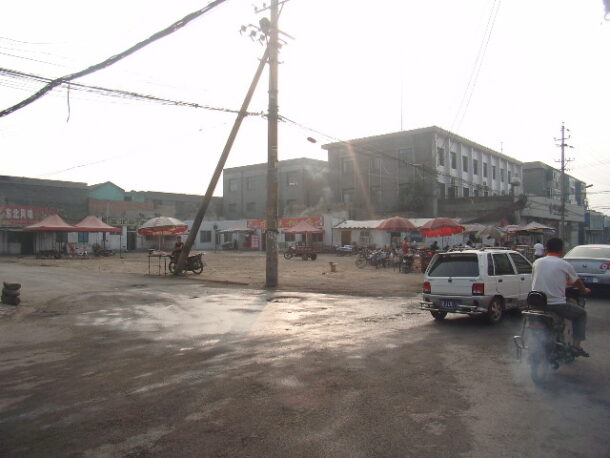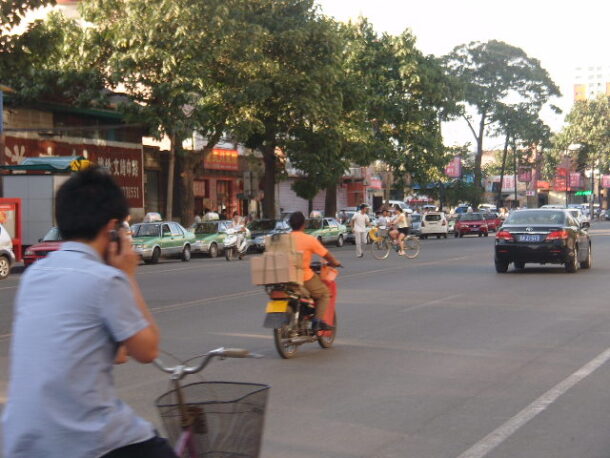 Streets of Fenyang. All photos credit the author
The year was 2002. I was in middle school, and my understanding of art was mostly informed by a mirror painting hung at my home. My father made it and titled it Tiger Descending Mountain—the magnificent beast alluded to his role as the family's head and bread-winner. The generation before my parents just withdrew from the farmlands, nullifying the labor advantage of men. But my parents inherited the same family dynamics nonetheless, resulting in clear demarcations in family roles: the dominant and the subservient; the social and the domestic. This "safety net," weaved with contractual consensus, would catch them whenever their marriage started to fall apart.
In my father's youth, he worked at the local arts and craft factory, and painting skills were a prerequisite. He would paint on mirrors, which, when framed with wooden casings, would transform into fine furnishings that could reflect your image and add flair to your home. When compared to other decorations typical of that era, such as calendars or pin-up girl posters, the mirrors would seem more "artistic." His arts, if they could be called as such, blended quotidian livelihood with the collectivist iconographies of anticipation towards a better life—universalized, pragmatist furniture with hints of decorativeness and amusements.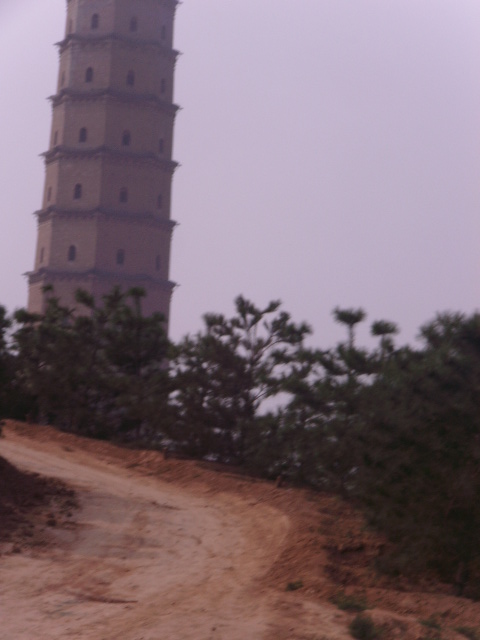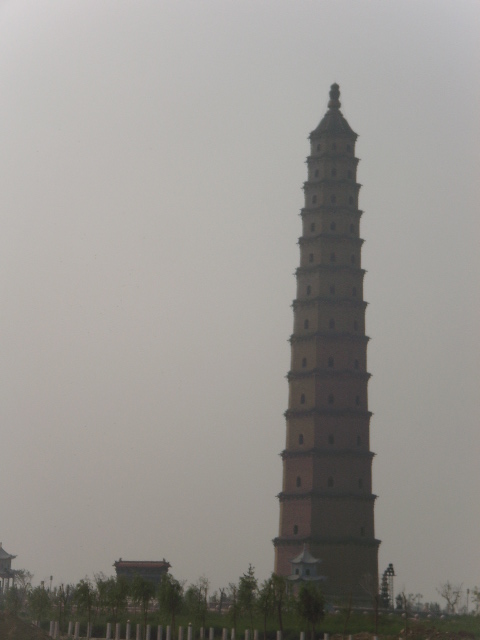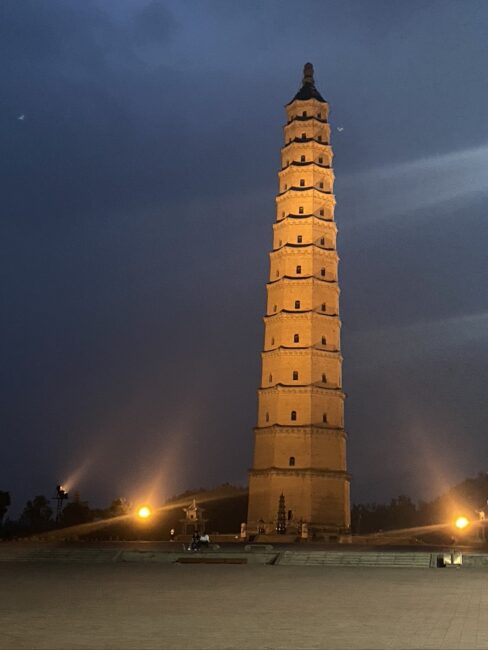 Wenfeng Tower in Fenyang
By 2002, the collectivist way of life was further eroded, leaving Tiger Descending Mountain and its time behind. The "Reform and Opening-Up" policy had been advanced for many years and, despite the myriad events that nuanced it like a persistent, spectral haze, it was written into history with certitude. History is like a blade of leaf, remembered along its stretching venation. I vaguely remember a time when state-owned companies were closing down one after another at my hometown—the Fen Yang County, which was not a city then. One year, the annual lights-and-fountain show, organized by the county's rubber factory, was canceled indefinitely. The factory employees each received a sum of compensation money and went into other businesses. The factory's gates would never open again.
Several years later, in 2008, as I watched my first film by the director Jia Zhangke, the hazy feeling would manifest itself as the moving image. That year, Jia's Still Life premiered in Fenyang, and I, a fellow townsman of his, finally had the opportunity to watch his long-concluded Town trilogy. The film's content was nothing more than glimpses into the lives of the kind of "nobodies" that are ubiquitous in my surroundings. However, the realist images captured by his lens have since been overwritten by rampant urbanization—the disarranged sceneries were driven underground by emerging tall buildings. Which was real? Which was fiction? Where were the memories? Or were they parodies? The artist and musician Zuoxiao Zuzhou sang at the film's premiere ceremony. In my mind I wondered, why were his mumblings considered "art"? And why would an artist call himself "cursed"? (Translator's note: part of the artist's alias, Zuzhou, translates to "curse.")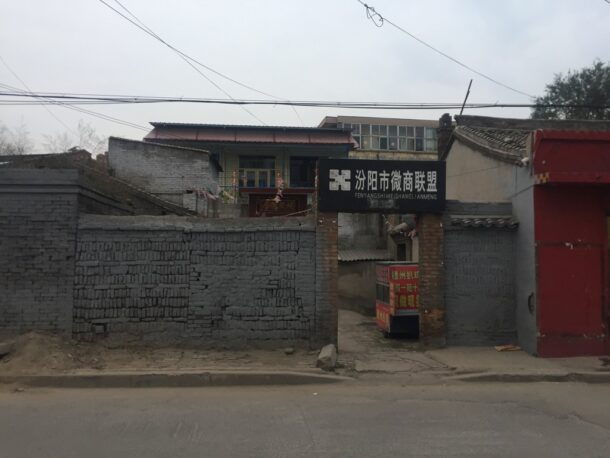 Streets of Fenyang before remodeling
The time is out of joint. It is as if the memories in my body are hopelessly entangled, coalescing into an incurable malady. I remember when the news of China winning the bid for the Olympics was broadcasted across the nation in 2001—in the soundscapes of my father's celebratory firecrackers and the cheers of Yang Lan and Deng Yaping from the TV (translator's note: Yang and Deng were ambassadors for Beijing's bidding for the 2008 Olympic Games)—the warm currents that gushed out from my heart suddenly froze and shattered. At that moment, in the dust cloud left behind by the crackling firecrackers, I felt a presence, a presence that was simultaneously felt in New York and Moscow. There was a moment when I mistakenly thought that the future was "planned evenly." In the following months, disorientation has taught me that, like every other person of this era, I have a virus in my heart—a visual impairment induced by developments, progress, and urbanization. Just when you can finally see the Moon, the pyramids, and the Statue of Liberty all at once, you are losing sight of the immediate reality around you. You are so farsighted that you can no longer tell whether you're holding a 5-Yuan bill or a 2-Jiao bill, and you have no idea whether that could be equivalently exchanged.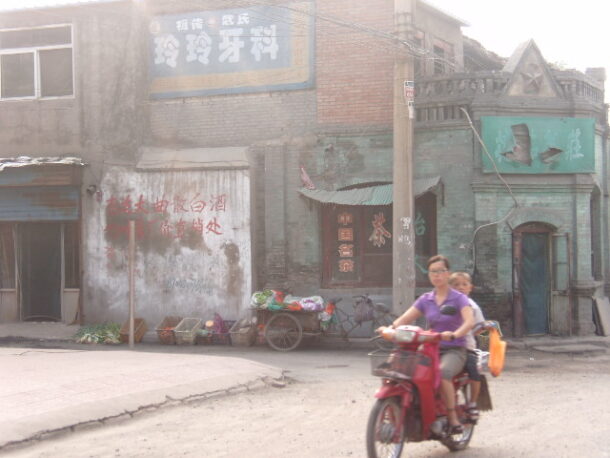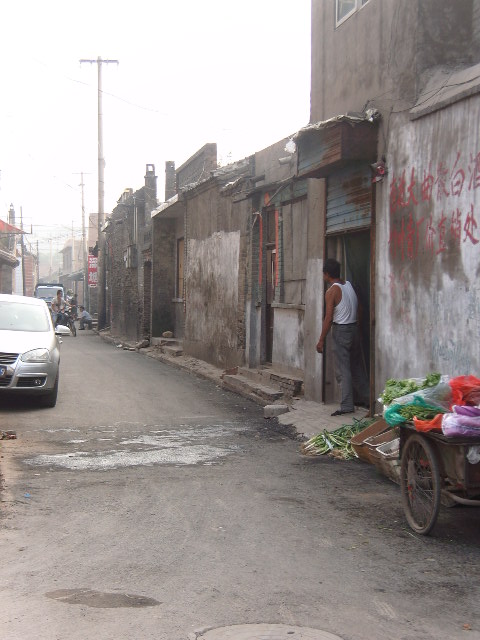 Streets of Fenyang before remodeling
Returning to the year 2002, Lu Jie and fellow artists just initiated The Long March: A Walking Visual Display, a project that would trace the historical route taken by the Red Army during the Long March. The artists planned to visit twenty locales, including Ruijin, Jinggangshan, Lugu Lake, and Maotai. This project would further intertwine once-polarized liberal and collectivist symbols within the narrative of contemporary art in China. Most of its participants later became prominent figures in contemporary Chinese art history, while the history itself is perhaps drawing its last breath. As I recently logged onto the project's website to revisit this fragmented history, I discovered that a few participating artists had already passed away. On both a material level and a spiritual one, Chinese contemporary art is an industry that suffers from premature senility. In the end, the project toured twelve of its designated locations, with Beijing being the thirteenth. In Beijing, Lu Jie founded the Twenty-Five-Thousand Miles Cultural Communication Center. The institution's mission statement referenced the revolutionary saying of "encircle the cities with the countrysides" and, when contextualized in art history, its establishment coincided with the emergence of gallery and museum culture in China. Art could take place anywhere, but the consumption of art always occurs in the city. Later, the Long March Project morphed into the Long March Space, absorbing a group of artists who contributed to the project, and Lu himself became one of the first gallerists of contemporary art in China. During the Long March Project, Lu had experimented with various modes of education in an effort to make art more accessible to the mass. Skipping to the present, just earlier this year, Lu announced that he was going to teach at the China Academy of Art, a decision that could be read allegorically—art can only establish itself through institutional pedagogy.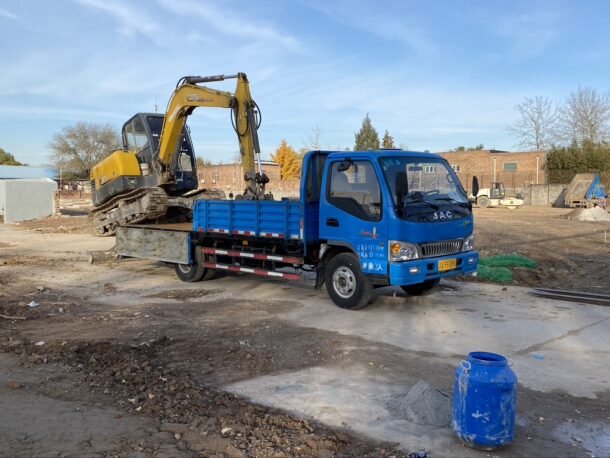 Heiqiao art neighborhood being demolished
Utopian narratives were never absent from contemporary art that evolved from avant-garde and experimental "amateur" art. At Beijing's Dongcun (East Village), Wangjing Basement, Heiqiao, and Caochangdi, artists who recently drifted to the city shared housing units with the construction workers that built the city. Just as they were eagerly making art, China's city development and real estate markets were taking off. In January 1998, Zhu Rongji, then Premier of the State Council, met with real estate tycoon Wang Shi and asked him about his views on housing trends; In February, at the third meeting of the State Council Housing Reform Leading Group, Zhu declared that "we must make a decision to stop welfare housing allocation in the second half of this year." The urban gentrifications that followed crushed the artists' utopian dreams. Practices and productions by artists—visual or performative—were reduced to mere supplements to "a high-quality lifestyle and authentic experience" by the media apparatus. Many artists today still fondly remember the early-2010s, when the Chinese contemporary art market was booming: all works were up for sale, and as long as works were being made, collectors would buy them. However, the relationships fostered within this "harmonious" scene were soon soured by a declining market. Artists were receiving cash with one hand and paying their rising rents with the other. The cafes, bars, and boutique shops that initially rose to prominence because of their proximity to art have now become the new destinations for intercity travels, and they are now remodeling the very art communities that were once spontaneously formed and positioned at the city's margins. Artists were evicted from leasing units with dubious property rights, and within the complex ecosystem of the city, they became a demographic that was apparently "privileged" but homeless in actuality.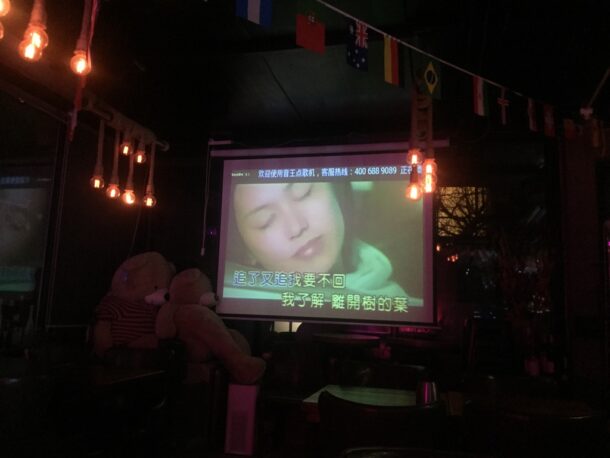 Bars emerging with the artists' settling-down in Caochangdi
Cui Cancan, a witness to the failed art project that started and ended in 2013, organized "Heiqiao Night Away" at the artist-run space We Said Let There Be Space and There Was Space. From midnight June 1 to the evening of August 1, dozens of artists who lived in or near Heiqiao were invited to engage the space in whatever way. Up to 150 artists intervened in this space, which was less than ten square meters in size. I will offer a small sample of artist contributions so you may get an idea of the event's mad glory: Someone committed arson and drew policemen to the space; Someone hired workers to seal the gate with walls of bricks; Some artists paid off two middle-aged hooligans to block visitors from entering the space; Hu Qingtai brought two villagers to see a work at the site, and the villagers said: "You lot are all sick in the head. Stop posing as artists!"; Zhao Zhao opened a bottle of champagne in the space, naming the performance Congratulations! You all made it. I wish you a bigger victory ahead… These happenings did not necessarily transpire in the night, yet, they could've only happened in the night—because just a glimmer of light would wake them from this dark revel. The project made Cui Cancan a star in the Chinese scene, while many participating artists remained unknown. "Heiqiao Night Away" became the only evidence that art still lingered on this lot of land. After the project, the neighborhood was renamed Heiqiao Park.
When contemporary art waved goodbye to the utopian era, Beijing's 798 District had already become a national tourism hotspot. More and more real estate projects sought partnerships with contemporary art, and profit cases were presented in pitch presentations over and over. Shanghai was just experiencing the early stage of its "museum boom" then. As of 2020, there are 89 museums in Shanghai[1], whereas there were only a handful of them a decade ago. The exponential growth of museums exhibits a kind of positive correlation to the flourishing of the real estate market and the increase in gentrified neighborhoods. Shanghai has overtaken Beijing on a bend. It would seem that it will soon supplant Beijing as the new center of art, or perhaps that has already happened long ago.
Amidst the power-grabbings that arise from the new center, new rule-makers and ways to play are also coming to the fore, shaping one another. Indeed, one of the best art expos in China, the West Bund Art & Design Fair, is organized by artists—many cultural producers (artists and curators alike) have long reached the consensus that becoming a maker of rules is far more enticing than being a player. In the essay, "A Cursory Examination of Shanghai's Art Infrastructure," writer Zian Chen calls such agents "infrastructure builders." Infrastructure is without a doubt crucial, but it can only exist in sync with the era's "main melody." Within such a melody, art is considered noise.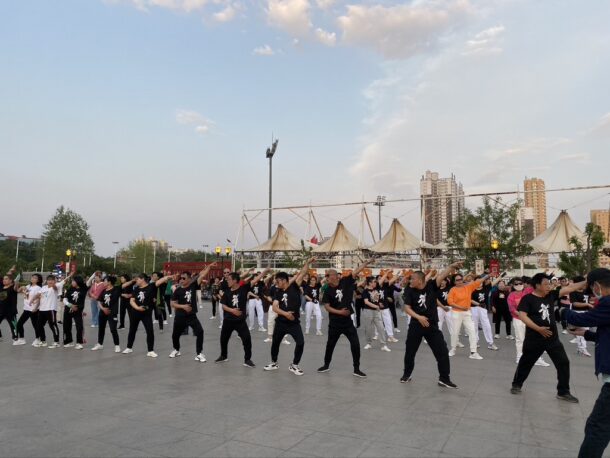 Square, Fenyang
I recall that, in my childhood, a kid who suffered from "atavism" wandered Fenyang's streets. She would come out of her home to enjoy the warmth of sunshine right before sunset. It was rumored that she was actually much older than what her childlike appearance suggested. She was covered with hair and had a tail the length of a forearm, which was concealed in her pants and seen by no one. Other adults told me that she wouldn't live past twenty. She rarely talked and babbled like a baby. To me, she represents an epiphany of sorts—we are all just like her, with different temporalities clashing within our bodies. No era is ever too good for art, and none too bad. The collectivisms that emerge from art have always drifted across temporalities as "mutants" that are constantly being made, dismantled, re-made, and overthrown—only to be rebuilt yet again.
[1] Shanghai Art Museum Directory 2020, published by Shanghai Culture and Tourism Bureau, October 2020
Feng Faren is an art worker.
Translated from the Chinese by Kevin Wu